Hearing Loss
I don't own this space under my name. I should have leased it while I still could
Join Date: Dec 2002
Location: Lincolnshire
Age: 76
Posts: 16,515
That is not what happened with me.
I can remember exactly but it was an award of, say £4,500. I was then reassessed at 20% as you say, but as it was more than 3 years after the initial award there was no 'mark time'. Had it been after a year then the pension payment would have been deferred until year 3.
Two points AFAIR, you must submit your application within 6 months of receiving the application forms. Any award is backdated to the date of submission. It is not quick, my present application was submitted before Christmas.
​​​​
Join Date: May 2004
Location: Balmullo,Scotland
Posts: 892
Originally Posted by
ORAC
Thank You ORAC
I don't own this space under my name. I should have leased it while I still could
Join Date: Dec 2002
Location: Lincolnshire
Age: 76
Posts: 16,515
I contacted the Veterans Hearing Help. I contacted them yesterday and received the application pack today. From their website:

Samantha and Ben Bennett began the UK Veterans Hearing Help in response to Ben's subsequent hearing loss from his 13 years in the Royal Artillery. When Ben at 43 years of age started to struggle with the volume of the TV, and in groups of people, Sam, who was already a Hearing Aid Audiologist with their children (also Audiologists) diagnosed Ben with a high-frequency hearing loss which affected his clarity. They quite quickly fitted Ben with hearing aids with the support of a manufacturer and when Sam and Ben went to the next reunion, a lot of Bens' colleagues commented on his hearing aids and their issues.

I think they oversee your application to the RBL Veterans Hearing Fund. The service is free to us and they probably cost their costs from the profit margin on the hearing aids.

The RBL VHF is funded with £13m from Libor Scandal. It is drawn down over 5 years. In two years over 1,000 veterans have received help. That £13m will not last more than the 5 years at that rate.

Apparently the process is slow and can take a year.
---
Last edited by Pontius Navigator; 15th May 2019 at

20:13

.
Join Date: Aug 2009
Location: Odiham
Posts: 165
I joined in 1993 and have flown helicopters since then until 6 years ago. My hearing started heading downhill in 2002 until now when I am MLD as a result, after a downgrade in 2016 FFS..... and H 'very bad' in each ear (high tone/speech range) diagnosed by RAF doctors and recorded as NIHL. I guess 3 years on Pumas and 15 years on Chinooks will do that (almost all Pre-CEPs). Funnily enough since I stopped flying and started staff work in earnest any further hearing loss has been considered age related.... think I have a case? Should I flag it now or wait for retirement aged 60, though? Also does anyone have a letter/note that was written years ago about the SH 4B4L helmet Pre CEPs and how bad they were at noise reduction?
Join Date: Feb 2003
Location: uk
Posts: 2,797
Join Date: Aug 2009
Location: Odiham
Posts: 165
Join Date: Sep 2012
Location: North of Watford, South of Watford Gap
Age: 63
Posts: 197
Join Date: May 2007
Location: Okay A Bit East
Age: 75
Posts: 122
Originally Posted by
DODGYOLDFART
Hearing loss as a result of working in or around aircraft is something that the RAF has been aware of since at least the early 1960's. Some time back whilst working on Human Factors at Cranfield Uni. I came across a medic who had worked on a project at Farnborough looking into this problem. As far as he could remember this was either 1961/2. The project concluded that whilst most jets of the period were capable of damaging hearing the worst by far was the Gloster Javelin. This was apparently something to do with the harmonics created by the Sapphire engines mounted side by side.
Early sixties, umm. Aircraftprep at Lyneham, as I have said elsewhere if eardefenders existed at all they were a plastic shell will a tiny piece of foam glued inside the body and fitted with pads filled with glycerine which leaked almost as soon as you wore them dribbling down the neck which was uncomfortable and cold.
Engine runs on Comet twos created a "blue note" and as a very junior radar mec on the shift it always fell to me to man the fire bottles so lots of noise there. And then Hunter avpin starts, like a lot of you the list is endless.
---
Last edited by cliver029; 16th May 2019 at

09:20

. Reason: Too many commas,,
Join Date: Feb 2003
Location: uk
Posts: 2,797
Mk4 helmet passive attenuation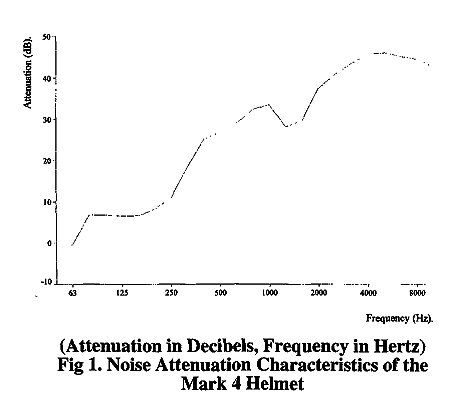 Try asking MoD for the noise measurement reports of each aircraft/environment that were carried out many yonks ago. Depending on the Trainer/Simulator, you should always remember take into account hours there, as many are designed to reproduce aircraft noise.
My advice would be to speak to QinetiQ at Farnborough. They hold all MoD data. 01252 395496. Ask for the Human Acoustics Technical Leader. She's brilliant.

Posting Rules
You may not post new threads
You may not post replies
You may not post attachments
You may not edit your posts
---
HTML code is Off
---