Mayday over the Wash
Join Date: Jan 2009
Location: Oxford, UK
Posts: 1,546
Likes: 0
Received 0 Likes on 0 Posts
Question: as the T-tail is useful for elevating or lowering the nose of the aircraft, it should still be effective very near or on the ground in a field landing, better than a standard elevator?
No Mary. They run out of elevator authority before the standard one does. Well known for it. The Lance suffers from the same.
Join Date: Jul 2014
Location: Santa Rosa, CA, USA
Age: 70
Posts: 169
Likes: 0
Received 0 Likes on 0 Posts
It seems to go both ways. The 1979 crash of P-51D "Red Baron" piloted by Steve Hinton was mentioned recently in another thread, so it immediately came to mind: "The RB-51 crashed short of the runway. The wings were sheared off as the plane came down between two piles of rock and the fuel erupted in a fireball. The cockpit was thrown end-over-end away from the fire, yet Hinton survived with a broken back, leg, and ankle. His survival is attributed by one of the lead engineers, Pete Law, to additional braces and a roll bar installed on the cockpit."
It took some effort, but i found a photo. The text is from a sponsor, Michelob beer.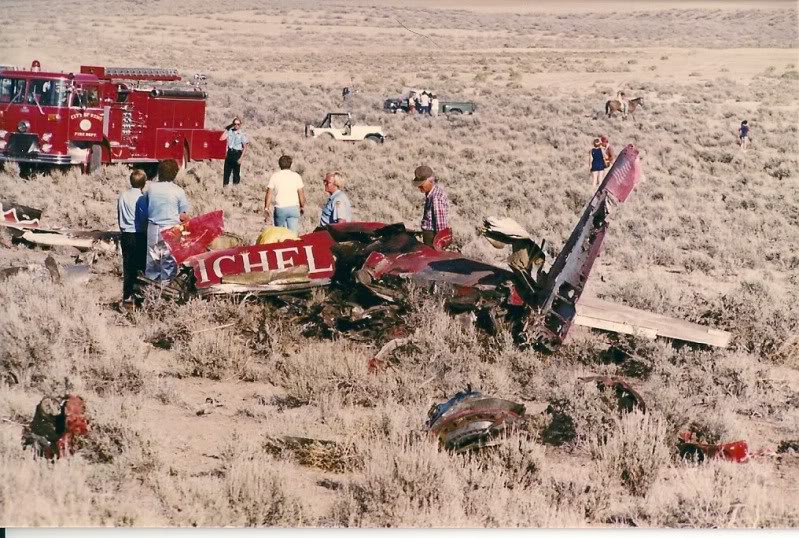 Looking at the wreck of the Piper I too thought it looked survivable, sorry it wasn't.
---
Last edited by PrivtPilotRadarTech; 22nd Sep 2017 at

22:13

. Reason: add image
Join Date: Mar 2005
Location: N/A
Posts: 5,244
Likes: 0
One of the features of tin built aircraft is that they can suffer deformation during the crash and then recover to an undamaged looking state. Oil canning on a grand scale. The cabin can be deformed/crushed to the point of killing the occupants and then pop out to an almost undamaged looking state.
Some years ago Pilot Dar posted a photo of an SF260 which crashed recovering from a spin at Oshkosh. The airframe looked remarkably intact, yet the pilot succumbed to his injuries a day or two later.
Join Date: May 2004
Location: Bear Island
Posts: 585
Likes: 0
Received 0 Likes on 0 Posts
A footnote relating to the PA28R201T, as I used to instruct on these.
In common with many products from this manufacturer, there was an automatic gear lowering feature, which doubtless saved many a red face in the flying club bar, but was a pain in the neck in the event of an engine failure. Our SOP was to override the system.

If you did not, as you reduced towards best slide speed, the gear would suddenly deploy and your carefully planned circuit would be history.
The extra drag is significant on this aircraft type.

Very sad to see two people lose their lives in this accident.
Join Date: Jun 2005
Location: Iraq and other places
Posts: 1,111
Received 0 Likes on 0 Posts
I tend to land both types with a closed throttle. The T-tail a few knots quicker to avoid a nosewheel-first arrival. I've been told that the conventional tail is in in clean air in the flare. The T-tail is partially blanked by disturbed air from the wings.
I don't know if this is true and I don't care. I do know that the last aircraft to drop short of the runway at my base and rip its gear off was a Lance. Not me.


Posting Rules
You may not post new threads
You may not post replies
You may not post attachments
You may not edit your posts
---
HTML code is Off
---