Barometric error
Join Date: May 1999
Location: Quite near 'An aerodrome somewhere in England'
Posts: 25,814
Pressure altimeters have 3 main errors:

1. No machine is perfect, so instrument error, lag and hysterisis will affect any such altimeter to a degree.

2. Installing an altimeter in an aircraft will induce certain errors, such as position error and cockpit temperature.

3. Even if both altimeter and installation are 100% perfect (impossible), the atmosphere in which the aircraft is flying probably isn't 100% International Standard Atmosphere, to which the altimeter is calibrated. The resulting error is termed 'barometric'.

These errors may be additive or subtractive - but they will always be there.

A good pressure altimeter is probably accurate to ±30 ft - but that also assumes that the pressure setting datum is accurate.

Join Date: Apr 2009
Location: down south
Age: 73
Posts: 13,229
Here you go...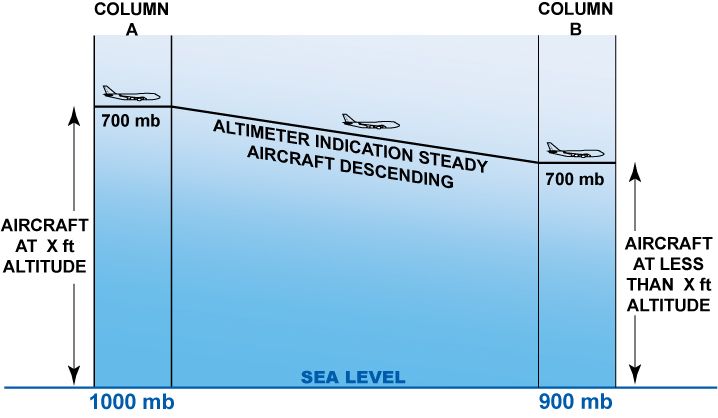 The sea level presure in column A is 1000mb and the aircraft is flying at the 700mb pressure level.
The sea level pressure in column B is 900mb, so the 700mb pressure level is lower.
The aircraft will therefore descend with a constant altimeter reading because it is merely following the 700mb pressure level. Remember that the altimeter is simply a barometer.
All that has to be done in column B is to reset the subscale to 900mb.
So barometric error is not an error of the instrument. It may more aptly be described as "finger trouble" by flying with a mis-set subscale setting.
LM
---
Last edited by Lightning Mate; 9th Nov 2012 at

10:02

.
Join Date: Nov 2009
Location: uk
Age: 55
Posts: 72
EASA LOs in instrumentation DO NOT consider barometric 'error' as an error at all - which is isn't. The altimeter is working correctly indicating the vertical distance from the sub-scale setting. Just because the setting is not referenced to MSL or airfield QNH doesn't mean that it isn't working correctly - it just means the indication have little or no useful value.

Posting Rules
You may not post new threads
You may not post replies
You may not post attachments
You may not edit your posts
---
HTML code is Off
---