Cessna C206 crash at Efogi PNG - P2-ALP - 16th Feb 2021
Join Date: Jun 2018
Location: Port Moresby - The beer is cold at the Aviat and Car Clubs
Posts: 187
Cessna C206 crash at Efogi PNG - P2-ALP - 16th Feb 2021
---
Has been confirmed that a Cessna C206, P2-ALP, operated by Airborne Logistics, based in Port Moresby, was severely damaged in a landing accident at Efogi, Central Province.
Soft ground is believed to be the cause of the accident.

Same airstrip where Air Sanga PAC-750 suffered a landing accident due soft ground on 7th October 2019
---
Last edited by Mumbai Merlin; 21st Feb 2021 at

21:16

. Reason: Location error
Join Date: Nov 1999
Location: PNG and Cairns
Posts: 191
Join Date: May 2015
Location: NSW MNC Oz & part timer POM taim bipo
Posts: 40
Thanks MM& Kaga, predictive text got me in the bad books when I couldn't copy the LoopPng link so I copied and pasted the text. Sori tumas. Tenk yu tru for getting the post up.

To keep discussion moving would they have been landing "uphill or downhill"? I'll look for the report for the 2019 incident.
Join Date: Nov 1999
Location: PNG and Cairns
Posts: 191
EFOGI 0909.45 14739.56 AYEF 4 17/35 3800 487 9.5 N L17 T/O35; undulating; updraft with t/winds

One way strip!

BTW, it is a short strip for a C206 at best of times, drainage is not the best, and agent strip reporting is important. The AIC might not do anything other than a 'desktop' audit and report. The aircraft was crewed by two pilots, one of considerable PNG time; well respected therefore a written report from him would most likely be sufficient.
Join Date: May 2015
Location: NSW MNC Oz & part timer POM taim bipo
Posts: 40
2005 but I don't think that's the entire length!
---
[img]blob:https://www.pprune.org/4f419cf1-1b15-454c-a68e-4954eaec7d1d[/img]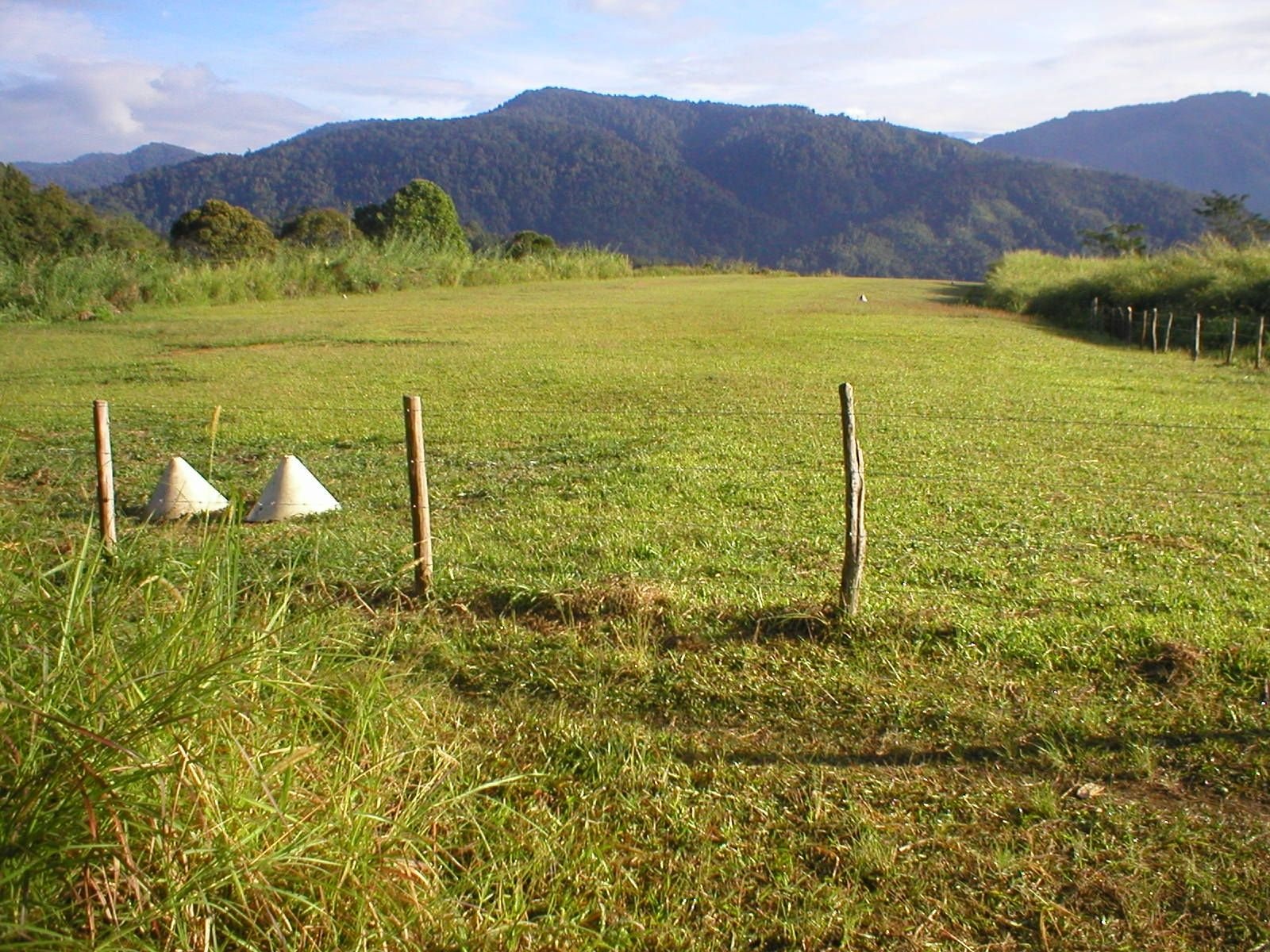 ---
Last edited by Magnetomick; 22nd Feb 2021 at

05:29

. Reason: Format
Join Date: Jun 2001
Location: Albany, West Australia
Age: 80
Posts: 499
Difficult strip with much steeper lower end. If I recollect it required less than full flap, 5kts+ more approach speed, and a strong roundout to avoid nosewheel contact. In my day, it was 185 only until the Porter appeared.
happy days,
Man Bilong Balus long PNG
Join Date: Apr 2002
Location: Now officially on Life's scrap heap, now being an Age Pensioner and not liking it one little bit! I'd rather be flying but in the meantime still continuing the never ending search for a bad bottle of Red!
Age: 66
Posts: 2,660
Went into Efogi many times but always treated the strip with the greatest respect/caution. The Douglas Airways 'Bible' stipulated an extra 10kt in speeds turning final, and you were committed from 4,000' on final.
Don't remember the fence in the picture shown above though..

.Maybe too much Red since!

It was the one place where I was nearly always given fresh veggies, bananas etc whenever I landed there. And always from some of the local Meris!

---
Last edited by Pinky the pilot; 23rd Feb 2021 at

06:46

. Reason: Typo
Join Date: Mar 2008
Location: Victoria
Age: 73
Posts: 84
Join Date: Mar 2008
Location: Victoria
Age: 73
Posts: 84
Sunday jungles were a lot of fun - early start, 4 or 5 quick trips, finish around noon.
my favourite Stop though was Fane, had a 4 week stint based there lomglining with a 206 B4 I switched back to welded wings.
the Brothers there Sure knew how to live !
Join Date: Jun 2001
Location: Enroute from Dagobah to Tatooine...!
Posts: 782
That fence be there to keep the Kokoda track walkers off the strip! The track goes right past the top of the strip there. Definitely more strip out of view. I have landed on the approach end of the strip and been in cloud by the time you get to the parking spot at the top... Less of a rollercoaster take off than Kagi across the way though...

Posting Rules
You may not post new threads
You may not post replies
You may not post attachments
You may not edit your posts
---
HTML code is Off
---