Incident at Casey Airfield Berwick 1953
Join Date: Jan 2008
Location: Asia
Posts: 159
Incident at Casey Airfield Berwick 1953
---
Those of you who will be attending the Casey Airfield reunion on 22nd November at Moorabbin may care to reflect on the following story.
Back in the days when the DH-82 Tiger Moth was the favourite crop duster myself and Jack Marshall then chief pilot of Airspread (An ag company based in Melbourne) left Moorabbin in our Tiger Moth dusters to fly to a job near Leongatha. We flew in close formation and as we passed over Casey airfield Berwick Jack indicated "downward" meaning we will land. At the time there was a larger than usual group of aircraft on the field and Jack's intention was to go down and say hello. I tucked up close to Jack and in pansy formation we landed together on the grass and taxied to a point near the other aircraft. A Land Rover arrived and out stepped Lord Richard Gavin Gardiner Casey who immediately started to berate us as per "you two do not have permission to land here, this is a private function and I would like you to leave at once." Both Jack and I were astounded. I clearly recall not saying a word and I don't remember Jack saying anything either. We simply swung the propellers of our steeds and departed pronto.
No aviation camaraderie that day. Crop dusters wearing leather jackets and flying hard worked oil and mud stained aircraft were clearly not wanted. Was it a case of being socially unacceptable or was it something else?
Think about this when the speeches, drinks and finger food are on !!!

O.P.
Join Date: Jun 2001
Location: Albany, West Australia
Age: 79
Posts: 484
Slight thread drift here....but I think the Caseys' owned a 1953 Cessna 180 (VH-RGC), which was named 'Lady Casey' ?

Same aircraft currently resides, and in vgc, at Bunbury WA unless I'm mistaken. A bit of history.

happy days,
Join Date: Jan 2008
Location: Asia
Posts: 159
VH-RGC (Richard Gavin Casey)
---
poteroo:

That's an interesting snippet of aviation history but let's not blame the good lady for selective showing off. You can bet London to a brick it was not her idea. So --- guess who.

O.P.
Join Date: Feb 2001
Location: brisbane,qld,australia
Posts: 266
Back in '58 when I started flying lessons, I was working at Schutts who did the maintenance on the 180 and the Messenger ( AVQ I think ). Never saw him flying the 180 only the Messenger. General consensus was that the 180 was to hot for him.

Their radio procedures were a hoot. More like a phone conversation using the callsigns " Dick" and "Mae" when talking to each other.

Seem to recall that Berwick was a private airfield and that if one did not have business there then one was supposed to get permission to land.

Only went in there once in a club chippy to enquire about doing some gliding.

Emeritus
Join Date: May 2006
Location: australia
Posts: 166
Can well remember during my PPL training days at MB (all over grass, Pine Trees up the western end - there that gives my age away) that the Caseys were flying in. ATC all but closed the airfield such was the "standard" to be expected until such time as they were on the ground.

Privilege, indeed.
Join Date: Jan 2006
Location: melbourne
Posts: 129
A while back someone posted a variation on the story above with Col Hatfield tearing a strip off the hapless tiger moth pilots which was very uncharacteristic of him and hard to believe. This version with Casey telling them off makes more sense.

It didn't really become "Casey airfield" until around '64 or '65 when Col. Hatfield and Maj. Ron Kerrison took over. Prior to this it was Lord Casey's private airstrip. Lord Casey's estate and main residence "Edrington" was located a mile or so over the hill on the other side of clyde rd and his hangar (which still exists today at the moorabbin air museum) was built in the 30's to house his Percival Vega Gull VH ACA.

The VMFG had their glider operations there in the 50's as guests of lord Casey and the fly in / gathering mentioned above was probably something to do with them as there were no other operators or aircraft on the field at the time.

VH RGC was Lady Casey's Cessna 180 and i believe she continued to fly after he gave it away. Say what you will about them but he was probably the last senior government official who was any real advocate for general aviation in this country. (probably why ATC at YMMB Cut them so much slack!)

The airfield itself was called Casey and opened to the public in the mid '60's when Col. Hatfield and Maj Kerrison took over the lease on the land after Lord Casey quit flying.
Join Date: Jan 2008
Location: Asia
Posts: 159
Tongue Lashing:
---
StallsandSpins:

I rather like your description of Jack Marshall and myself as "hapless Tiger Moth pilots" because that is exactly what we were. We landed at Casey Field in all innocence expecting to be offered a cup of coffee but instead received a tongue lashing that I have not forgotten. However, be that as it may I would not under any circumstances have exchanged my crop duster cockpit for all the haut monde elitism available to someone who just happened to own a small airfield.
Your historical account of the airfield is interesting but I can't understand the thinking behind transplanting a very ordinary small hangar from Berwick to the Moorabbin Air Museum and then hanging a sign on it that says "Lord Casey's Hangar". Touching the forelock comes to mind.

O.P.
Join Date: Jan 2008
Location: Asia
Posts: 159
Tiger Moth Crop Duster
---
Jack,

With tank full of fuel, 400 lbs max in a hopper in the front cockpit. No dump system, no brakes, propeller very fine ie 3" 7" pitch for max pull. 2" keel welded on the tail skid for taxying control, usually a piece of a large file or section of a bulldozer blade. Cockpit fuel cock wired to the on position to prevent inadvertently turning it off. No engine run ups, just listen to it. Great fun, I loved it.

O.P.
Join Date: Jun 2000
Location: Australia
Posts: 3,937
Crop dusting with tiger moths?

mmm, how much of a load could you carry?
While instructing on Tiger Moths and Wirraways at RAAF No 1 Basic Flying Training School at Uranquinty, NSW circa 1956, some of us answered an advertisement in the Sydney Morning Herald that Air Farm Pty Ltd was looking for part time crop-duster pilots based in Tamworth or living in caravans around Guyra. Two weeks minimum stay and must have at least 300 hours on Tiger Moths. Money was excellent - more than we were getting in the RAAF.
No training needed - it was a case of on the job immediately. I recall usual load was 400 lbs superphosphate in hopper (converted from instructors position). That put aircraft well outside forward C of G and needed full back trim for take, climb (to 200 feet which took ages) and cruise of between one to three minutes then drop. Guyra in summer was at least 6000 feet density altitude requiring full throttle all the way. Tiger Moths don't like high density altitudes when loaded to the hilt. Those gum trees at the end of crop-duster airstrips were always a worry especially if the take off was into the setting sun in the late afternoon
The fabric over the rear of the fuselage just aft of the pilot was stripped away to minimise phosphate gathering in nooks and crannies. VH-BUM was one such Tiger Moth. You pulled a lever to drop the load. No brakes on the Tiger and we quickly became aces at short landings so as not to overshoot the loader truck. Long time ago but I think we sometimes did about 20 take off and landings per hour starting at 0700 each day. . Eight hours of flying at least per day. I did 90 hours in two weeks before returning absolutely stuffed back to Uranquinty. A wonderful experience. I and several other RAAF flying instructors did two or three "tours" at Air Farm before our CO Wing Commander Keith Bolitho DFC (former Catalina pilot who did 23 hour trips against the Japs to bomb Rabaul and mine the harbour approaches) found out where we were going on our "holidays" and threatened to court martial us if we did it again. We reckoned he was just jealous at the money we made. Nice bloke though and we thought the world of him.
Join Date: Jan 2006
Location: melbourne
Posts: 129
Ocean Person,
lt must have been quite the tongue lashing if it has stayed with you this long and for this i offer you my most sincere apologies. But I imagine even today the VMFG might get a bit upset if i landed unannounced (in a tiger with no radios) into the middle of their glider operations at Bacchus Marsh.

I don't really know that much about the Casey's or The history of the airfield prior to about 1965 when my old Grandad Col Hatfield took over running the place. It was Hatfield who decided to call the airfield Casey (I think he was friends with lord Casey through his involvement with the VMFG at the time).
It's a shame you never came back you would have received a much warmer reception "haut monde elitism " is not the place i knew...
Anyway here's a photo of the aforementioned cessna 180 RGC with Col Hatfield taken out front of the clubhouse at Casey sometime in the early 90's it had long since left Casey but the then owner used to fly in often for a coffee and hamburger.
[IMG]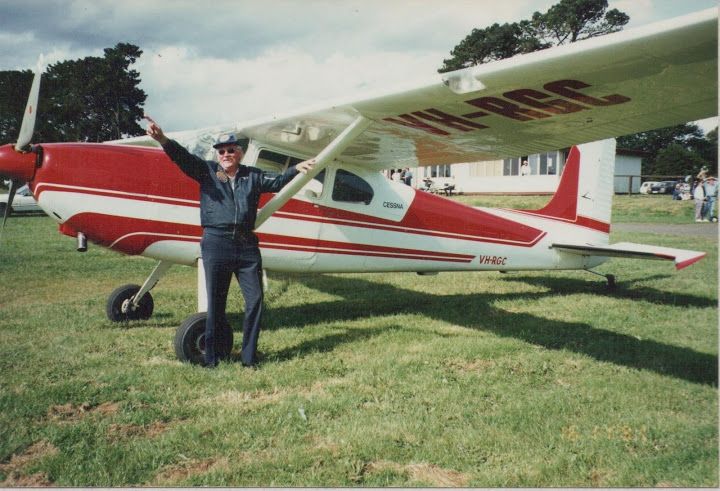 [/IMG]
Here is a picture of the Casey hangar on the far right.
I guess it isn't much but the hard working volunteers at the Moorabbin Air Museum deemed it worthy of preservation. Maybe it should be renamed Colonel Hatfield's Hangar as his Leopard Moth UUL spent more time in there than any other aircraft. Any way its not about the hangar it just a suitable place for a bbq and piss up.
[IMG]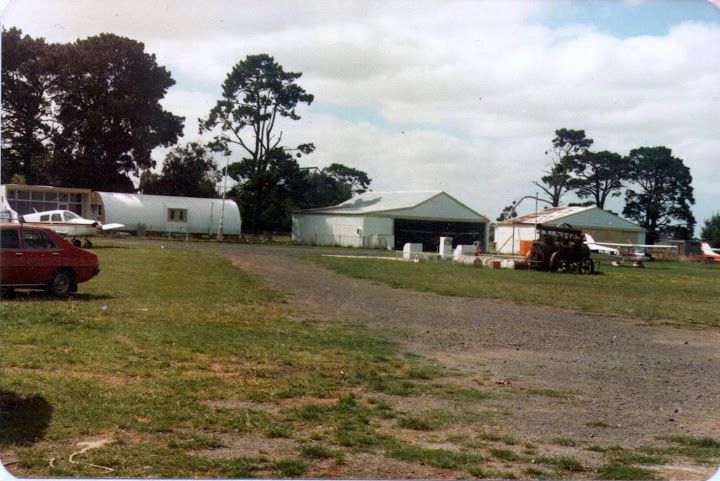 [/IMG]
And another of Casey taken in the mid 80's
[IMG]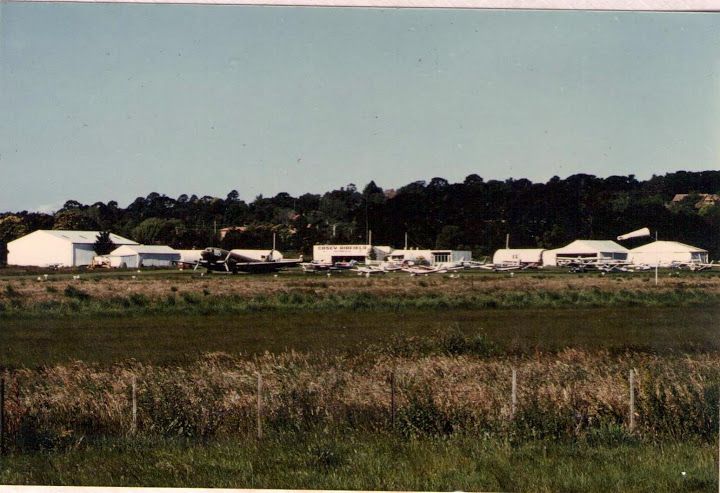 [/IMG]
If you can can make it down on the 22 nov ocean person i'll see to it that you get the coffee and sandwich you came looking for all those years ago


---
Last edited by StallsandSpins; 18th Oct 2014 at

08:33

.
Join Date: Jan 2008
Location: Asia
Posts: 159
Reunion:
---
StallsandSpins:

Thank you for the gracious words and the invitation to attend your function. I would like to accept. Perhaps it is time to bury the hatchet as what happened on that day is gone into the infinite azure of the past.

O.P.

Posting Rules
You may not post new threads
You may not post replies
You may not post attachments
You may not edit your posts
---
HTML code is Off
---