Aircraft on board foam spray system

Join Date: Mar 2014
Location: southampton
Age: 25
Posts: 1
Aircraft on board foam spray system
---
My name is Jack and I am an apprentice of a aviation company. I am currently in the first year of my apprenticeship. As part of thisfirst year I am studying a BTEC level 3 in aeronautical engineering. To achievepart of this qualification I am carrying out a project.

This project is a unit where we must identify problems,eliminate the problems down to 1, research this problem, time plan, design asolution and reflect on the solution.

My project relates to the safety aspects of emergencylandings, I am in the process of designing a on board spray system that would be able to pre-spraythe runway with fire fighting foam asthe aircraft undertakes an emergency landing with or without landing gear. Ifeel that the presence of foam would reduce damage to the aircraft, runway andalso reduce the chance of a fire breaking out.

My system would comprise of a tank of foam stored on boardthe aircraft that would be pumped through pipes and out through a nozzle. I mayuse mechanical pumps or the compressed gas for the evacuation slide


I am writing this post today to ask for some assistance inthe research area of this task.

I am looking for information on the following:

· Technical drawings complete with measurementsfor all areas of a Boeing 747 passenger aircraft or Boeing 737 passengeraircraft.

· Exploded diagrams of the cargo hold areas withmeasurements

· Fuel economy calculations for given addedweights

· Contact points of the aircraft if sat on groundwithout landing gear

· Details and locations of any pumps that are inuse anywhere else on the aircraft

· Details of the compressed gas system that powersthe evacuation slide



If any of this information could be provided I would be verygrateful.
Join Date: Dec 2007
Location: Pasadena
Posts: 633
It would be very heavy to carry the water required for making much foam.

If you're landing on a runway, someone's provided vehicles ideal for the purpose, that should be ready and waiting. The firefighters can still put foam where it's needed, and they're only seconds away if they know an aircraft with problems is arriving.

The issue would be to make sure any spilled fuel doesn't ignite after you'd stopped, putting a blanket of foam around and under the stopped aircraft, not as you are still moving: if you sprayed foam while moving, it would just make a messy wake for you.
Join Date: Jun 2002
Location: Wor Yerm
Age: 63
Posts: 0
I'm afraid you'll be designing a system that will never pay for itself. As a rough idea the cost in fuel will be between 2 - 4% of the weight of your gadget per hour. It will also rob the carrier of the weight of the device, weight which could be sold and valuable cargo space. Also, I'll also guess the braking action of a foam covered runway will be less than that of a dry or come to that a wet runway, thus increasing the length of runway required (and chance of over-run). Fire may be suppressed, but given the response times of fire crews at airports, that may also prove to be a waste of time.

As for the propulsion, the slides are powered by compressed gas and an aspirator, a sort of mass flow entrainment device that makes up for the lack of volume in the compressed gas. The slide canisters could not be used for any other purpose and would also be lacking in volume to pump any worthwhile volume of foam.

In an emergency, no aircraft pump could be relied upon - possibly the reason for emergency in the first place.

Lastly, runways are generally resistant enough to take the occasional belly landing and most aircraft appear to be scrap after a gear-up event. The loading on parts of the aircraft not designed to be in contact with the ground means extensive checks will make repairs uneconomic (eg. B747 in Cape Town).

As for hold dimensions and technical drawings - they might be difficult to get as they will be Boeing copyright. But your biggest challenge will be certification. It's tough enough fitting already approved components, let alone ones which are original.

As for an idea as to what could be designed -

1. A simple, cheap, lit, guidance system (search for Nose in Guidance Systems). The cheapest ones on the market are apparently now in excess of £20,000 each.
2. Combined tug, GPU, A/C and Jet start device.
3. Mirrors for aircraft stands so crews can monitor proceedings around the aircraft. If correctly designed, it could also do the job of No. 1 above.
4. An aircraft recovery device to enable crashed aircraft to be moved quickly.
Join Date: Mar 2013
Location: YMAY
Age: 71
Posts: 47
Aircraft on board foam spray system
---
What a shame that nobody can help. The unfortunate facts are that this philosophic project has heaps of obstacles and nobody wants to rain on your parade.

You would need to overcome the way-below-zero temperatures experienced at cruising levels where the foamchem would freeze into a solid block.

Good luck with it.
Join Date: Mar 2004
Location: Oxfordshire
Age: 49
Posts: 470
Try to remember that if something is not used in flight, then it should not be fitted to an aircraft - just about everything else can be located on the ground. Concorde didn't even have an APU because it was never going to be used in flight...

How about a very relevant idea:

A GPS marker which is ejected from an aircraft as it hits / just before it hits the sea.

That way the impact site could be easily found and we would not now be searching the sea trying to find a missing aircraft.

This would also have helped in AF447.

The marker may or may not have flight recorder data stored in it.
Join Date: May 2011
Location: uk
Posts: 580
Also, it would be all but impossible to produce enough foam fast enough (at 130+Kts touchdown speed) for it to have any affect.
At those speeds foam would be airborne in tiny pieces along with any atomised fuel, not stuck to a runway like a carpet.
Modern thinking is that foam carpets;
a)serve no useful purpose
and
b)cannot be placed even by multiple ground vehicles in the right place. it is impossible from a practical point of view to foam an entire runway, just as it is to guess on which part of it (or off it) the aircraft will stop.
Sorry.
A GPS marker which is ejected from an aircraft as it hits / just before it hits the sea.
N Sea Helos have had something similar for decades.
Join Date: Nov 2003
Location: UK/OZ
Posts: 1,682
The foam would need to be particularly sticky or it would not adhere to the aircraft skin due to the slipstream. A sticky foam was developed in the use to stick to the sides of buildings, even so it still blew off in 50 knot winds.
Most FF foams are slightly toxic.
You could use water from the potable supply to supplement your stored supply.
The Co2/Halon engine fire gas bottles could pressurise the system, but it would take them out of action to help extinguish an engine fire on landing.
Excuse my impertinence, but if it isn't too late to change projects

an onboard fire fighting system would have been handy a few weeks ago when 5 fires were lit by an arsonist, the crew apparently exhausted all the onboard portable extinguishers and resorted to using bottled water.
What is needed is an outlet by each loo where a hose and nozzle can be connected. Hose and nozzle can be locked away and under crew control and deployed when needed. Include a wand that could be inserted into hard to reach places and spray a light mist.
Join Date: Jun 2002
Location: Wor Yerm
Age: 63
Posts: 0
...or going one step beyond Mickjoebill's suggestion: design a light-weight, multi-liquid, standby fire extinguisher bottle with extendible atomising wand. Have one that will run on wine (I'm not kidding), beer, water, milk (ahem pee) and any other non-flammable liquid. It's use is to act as a backup to the main extinguishers. If made of plastic in a concertina form it won't weigh too much, and will allow fire-fighting to carry on (or start) divorced from the standard, required fit, extinguishers. It will also be useful in non-aviation scenarios.
Join Date: Nov 2003
Location: UK/OZ
Posts: 1,682
If made of plastic in a concertina form it won't weigh too much,
Collapsable knapsacks already exist, but the concept of filling them with whatever liquid is on hand is novel…
The pump is built into the wand, sorry to hijack the thread Jack, but does this idea have some merit?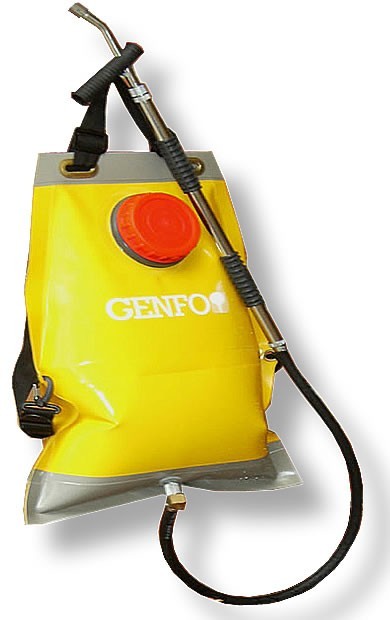 Other models
http://www.bigredtruck.com.au/media/...5/4/0/4002.jpg
Vallfirest # Ergonomic Fire Fighting Back Pack - BRT Fire and Rescue Supplies
Join Date: Jan 2014
Location: glendale
Posts: 822
jbgirling

great idea. reminds me of something brains came up with on "THUNDERBIRDS" having a jettisonable fuel container so the gas wouldn't blow up on a crash landing.

IF you look back in history, foaming was part of emergency landing procedures many years ago, but it was stopped. It didn't do that much good, if the plane didnt land withing 15 minutes of foaming, it did very little, high protein foam is made from blood and guts of animals. low proteing foam doesn't stick around too much.

I wish you well. It may be a good engineering exercise but probably will go the way of the upstairs piano lounge on the early 747's.
Join Date: Dec 2005
Location: Wellington,NZ
Age: 62
Posts: 1,631
While I commend the idea, there are - as indicated above - heaps of problems with it.

-Water is heavy. Foam is made using (mainly) water. The amounts needed would make it prohibitive.
-Even the waste water/fluid on board would represent a drop in the ocean when it comes to using it to create an even slightly useful amount of foam.
-Most emergency (landing gear problem) landings have a successful outcome, anyway.
-Where foam is used to cover the runway touch down point, there is a small window of usefulness to put the aircraft on it after it's been applied. If a fire does develop during the landing, in situations where this has been done, there will be nothing available for five minutes or so, to extinguish it; all the rescue tenders will be refilling their water tanks, having exhausted them by foaming the runway. (It really does take a lot of water to do this. And we're not even talking the entire runway - just the touchdown zone.) For these sorts of reasons, foaming of the runway is not an available option, mostly, even if the pilot requests it.
-Modern foam consists of AFFF. It's extremely good for putting a fire out; pretty much useless as a prophylactic. (It's also very corrosive to aluminium.)

Is it too late to change project ideas? Development of lightweight cabin furnishings that do not support combustion, and do not emit such toxic smoke as the present ones when held to a flame would probably be a useful endeavour. (Smoke is the big incapacitator following a survivable crash where fire starts. And it's quick.)

Another idea might be a heat - proof cargo container with an automatic and highly effective heat transfer unit, so that if the, say, laptop cargo burns, the flames (a) will not burn through the container, and (b) the excess heat (sooner or later the container would get hot enough to damage the surrounding structure) is somehow able to be vented outside.

Either of those ideas might actually have some uptake in the real world.

[edit] Or another pet hate of mine: Overhead lockers usually have several dozen litres of duty free alcohol in them. It seems no regulator is interested in actually doing something about this slightly thorny issue - which is only an issue if there's a crash. (Korean Airlines at Guam was a classic. Booze rained down from the overheads, and ignited. Seems it had a pretty big effect on survival times following the crash/contributed to quite a few deaths.)

-Design a shock-proof and liquid-proof container within each overhead for containment of bottles of spirits in the event of a prang. Needs to be light, cheap, not voluminous, easy to use, and do the job. Good luck.
---
Last edited by Tarq57; 12th Mar 2014 at

23:19

.

Posting Rules
You may not post new threads
You may not post replies
You may not post attachments
You may not edit your posts
---
HTML code is Off
---