Dear All,
This month's calendar features the chiseled features of pilot Ben Hall set against the skyline of Melbourne, Australia, the city ranked as the World's Most Liveable City by The Economist magazine for the 6th year in a row*.
Ben was kind enough to submit a selfie of him and the pristine, but not otherwise mentioned in his email, EC130B4 painted in what appears to be Aston Martin Hammerhead Silver.
You can download this Wide Screen desktop delight: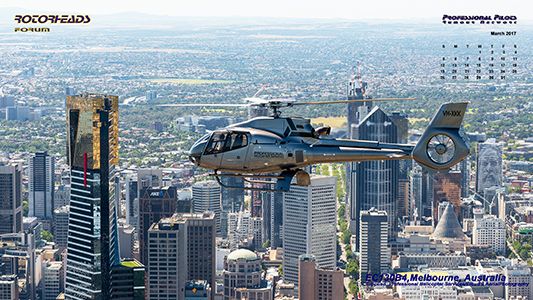 Here:
https://www.dropbox.com/s/azuyb8xx2z...March.jpg?dl=0
And for all you folks looking for the "Normal" version to reconcile the fact that you are still using your Mum's computer ... sorry, I warned you last month ... time to move out .. wide version only from now on.
If you want to be like Ben and be in the running to feature in the upcoming "Contributors to the Rotorheads Calendar Nude Charity Calendar" then please send high resolution images (of helicopters) to rotorheads.calendar.pictures @ gmail.com . Otherwise next month I
will
deliver on my promise to feature H269 pitch links in the calendar.
Take care of yourselves, check it once, check it well,
Pete
*Clearly the Economist Intelligence Unit folks discount the fact that the median house price would buy you a very tidy AS350 and run it for a year.