50 Years of the Fabulous 500.
Its this weekend.

​​​​12 x 500C
26 x 500D
24 x 500E
16 x 520N
2 x 530F
1 x 600N
Ongoing Total: 81

Might lose a couple because they will be working on the Cyclone damage clean up.

Join Date: Jan 2008
Location: Fieldsworthy
Posts: 202
Likes: 0
Today marks the 50th anniversary of the first flight of the helicopter we know simply as "The 500".
The 27th of February 1963 saw test pilots James Vittitoe and Raleigh Fletcher perform the first flight of a compact little egg-shaped helicopter at the Hughes Tool Company's facility at Culver City in California. The YOH-6 was one of three entrants in the US Army's "Light Observation Helicopter" contest for a new scout helicopter for the Army. The Army only purchased just over 1,400 helicopters but it has since gone on to be one of the legends of rotary-winged aviation.
The 500 has starred on the big screen and small. Probably one of the most recognisable helicopters ever was a candy-striped 500D that flew in Hawaii in the 1980's in support of a certain mustacheoed P.I.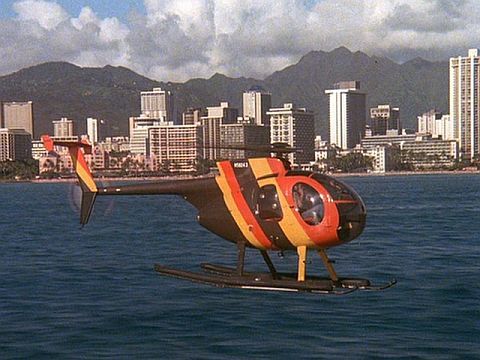 Thank you for a fantastic thread and starting post. I always enjoyed Magnum PI and especially any scenes with TC and the 500, my favourite being the one where he went off the rails for an old mate and ended up face to face with an AH1 Hueycobra. I tried to find the scene on Youtube but couldn't.
Equal best scenes featuring Hughes 500s would be in the awesome film
Blackhawk Down
.
Join Date: Jul 2008
Location: New Zealand
Posts: 953
Likes: 0
How time flies! In what seems like a blink of an eye, the Hughes OH-6/500 is 60 years old today! To mark the occasion, I thought I might share a few bits of useless information I have discovered about the 500 during some research I have carried out over the last 13 years or so.
The little helicopter that wanted to fly!
The first flight is probably as good a place to start as anywhere. The first airframe to fly, a YOH-6 bearing the registration number N9696F, was not constructed as an airworthy airframe. It had been built as a ground test vehicle. Hughes found themselves in a bit of a bind though. Bell had flown their YOH-4 in December 1962 and the other competitor in the LOH contest, the Hiller YOH-5, flew for the first time in January 1963. That just left Hughes to get their entry into the air. The problem was their dedicated first prototype, N9697F, was nowhere near being ready for its maiden flight in early 1963. I'd imagine Howard Hughes was not too happy with this situation! And so N9696F was upgraded from its ground test role to being assigned the important duty of performing the first flight for an aircraft that would earn the nickname "Loach" and in the civilian world would simply be known as the "500".
The 27th of February 1963 rolled around and test pilot James Vittitoe and test engineer Raleigh Fletcher climbed aboard the ground test vehicle that was now destined to fly. That first flight went well and resulted in a safe landing. It's probably not true to say the flight went smoothly as apparently the prototype four-blade rotor system suffered from a serious vibration problem that plagued the early phase of the flight test programme for Hughes. They ironed out that problem and the YOH-6 went on to perform some incredible feats in just the next few years of its fledgling career as a rotary-winged hot rod.
N9696F never flew a circuit and probably never ventured beyond 30 knots either. After 13 hours of flying spent in the hover or at low speeds, N9696F was relieved of its flight duties. It work was not done however. It went on to carry out the original task for which it had been constructed, namely ground test work. It accumulated almost 800 hours of test work before it was retired. The fate of this airframe is unknown and it's likely it was scrapped, sadly.
Looking closely at the photos, it might appear that the crew are wearing some peculiar garb for the serious work of test-flying. Both men are wearing a shirt and tie with a sports jacket! Apparently, that was the standard of dress at the time, required by Hughes, for any important flight where the crew were likely to appear in photographs in the aviation press afterwards. This practice seems to have been set aside soon after though as most subsequent Hughes flight test crews are seen to be properly decked out in flight suits.
Next time: "The name is Hughes, Howard Hughes………….."

Join Date: Jun 2023
Location: Northampton
Posts: 1
Likes: 0
Received 0 Likes on 0 Posts
Cosworth ownership
---
Hi Dennis
I remember this helicopter at Cosworth, Graham was the pilot. It was initially hangered at the back of the factory at St James Mill Road along a racing boat powered by a Cosworth Formula 1 engine. I went up in it once on one of the many flights to drop my father off at Heathrow. Graham occasionally picked dad up from a field behind our home once he'd ushered the horses away from his desired landing spot. Before the Hughes 500 Keith Duckworth had a Brantley, at Christmas he would fly Santa into the Cosworth kids party. I believe Graham was an ex RAF fighter pilot, he also did a spell of crop dusting which he demonstrated to my brother by mimicking in this aircraft. It's nice to see that it's still in use. Thanks for posting.
Michael

Posting Rules
You may not post new threads
You may not post replies
You may not post attachments
You may not edit your posts
---
HTML code is Off
---