UFO over South Wales
Join Date: Jul 2007
Location: Antigua, West Indies
Age: 53
Posts: 126
Relax man.....You will find that most of us are more interested in seeing pictures of the UFO than the misrepresentation or correct pictures of either the Twin Squirrel or the EC135.
Don't they do irony in your galaxy then?
Join Date: Oct 1999
Location: Beyond the black stump!
Posts: 1,279
I was talking to a guy in the pub, a well known and highly respected UFO expert; who says he has figured out what it is!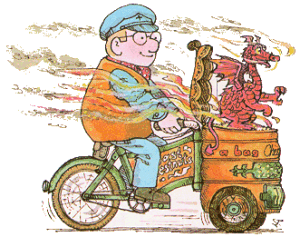 Idris the Dragon - well known around these parts and those familiar with the Merioneth and Llantisilly Rail Traction Company Limited!

Join Date: Aug 2003
Location: Dunmow
Age: 46
Posts: 26
Join Date: Dec 2002
Location: Wales
Age: 36
Posts: 128
lmao - thanks - most I've laughed all day!


Join Date: Nov 2005
Location: South Thames
Posts: 11

---
OK then, where in the real world is the pier @ 29secs?
Brighton, August 2000
Having worked for the MoD for 23 years, I would say on record that...
SS You take this far too seriously. That Brighton sighting got the crew front page of the News of the world, star billing in UFO monthly (wow) and invitations to the GMTV sofa,Japan and America (all declined). All in the retirement week of one of the crew after 30 years of being sensible.
Cut them some slack and smile, like the rest of us

Join Date: May 2008
Location: Middle of the Pacific
Posts: 86
---
Even more disturbing is the fact that there are still people out there who use the word "aircrafts" when there is more than one aircraft...

There is a great battle being fought in the skies, as well as outer space over the North American Continent. This link explains everything:
http://www.adrenalin.bc.ca/lazer/capt.htm
Join Date: Jan 2004
Location: South Wales
Age: 45
Posts: 186

Posting Rules
You may not post new threads
You may not post replies
You may not post attachments
You may not edit your posts
---
HTML code is Off
---