Shadow visible as bright area
Join Date: Feb 2003
Location: Oxford
Posts: 2,022
Shadow visible as bright area
---
Flying this morning - typical hazy UK winter sun - I couldn't exactly see my shadow, but there was an area of bright light where it should have been, instead. Where this area passed over anything reflective, e.g. windows, they reflected at me.

Does this phenomenon have a name? I guess the sunlight was reflecting off the haze.
Join Date: Apr 1999
Location: In front of a computer
Posts: 1,860
Join Date: Feb 2000
Location: UK
Posts: 13,637
I've seen it a few times - most impressively when I'm about to fly into a cloud with the sun at my back - for a few seconds there's this massive illuminated aeroplane coming out of the cloud right in front of you that you're about to collide with. Somewhat disconcerting the first time you see that.

G
Join Date: Feb 2007
Location: Amsterdam
Posts: 4,596
When flying in front of a cloud, it's indeed Glory, like ETOPS said. Simply put, the sun hits water droplets and the rays get dispersed in all directions, but not all colors are refracted into each direction. It's the same effect as seeing a rainbow.

When flying over ground, the effect is slightly different. You have the same thing when walking over (tall-ish) grass, and looking at your own shadow.

The reason is that at any angle, part of what you see is grass illuminated by the sun, and part is grass that's in the shadow of other grass. But if you look almost directly away from the sun, the grass shadows are hidden behind the grass that's illuminated by the sun coming from your direction. So you see far less shadows than elsewhere and that gives a halo-like effect around your own shadow.
Join Date: Jun 2002
Location: CYYC (Calgary)
Posts: 5,018
Here's a glory (also known as a Brocken Spectre) I saw from a CX A330 while descending into Vancouver: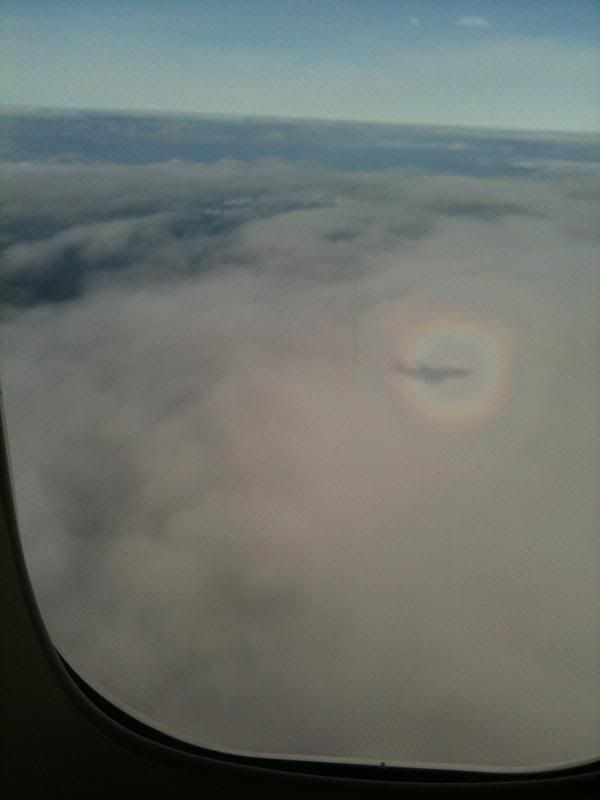 Note that the piece of the shadow in the centre of the circle indicates my location on the aircraft - the posh cabin!


Posting Rules
You may not post new threads
You may not post replies
You may not post attachments
You may not edit your posts
---
HTML code is Off
---