Pilot Officer Prune!
Join Date: Dec 2000
Location: UK
Posts: 737
Pilot Officer Prune!
---
Look what I found!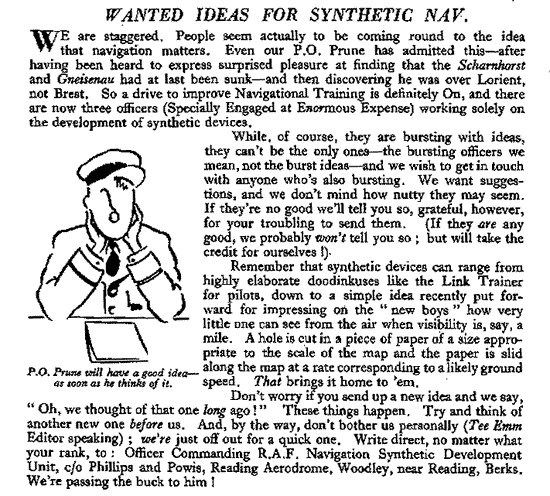 Its on the site already mentioned, and a jolly good read
The Mumbles of Edward Sparkes
http://www.users.zetnet.co.uk/sparkes/contents.htm

Join Date: Feb 2001
Location: England
Posts: 59
SirPHLC,

P/O Percy Prune was the creation of Bill Hooper a cartoonist of some reknown. He started his RAF service early during WWII and served on 54(F)Sqn as groundcrew. A short time later he found himself seconded onto the staff of 'Tee Emm' which was the RAF's 'Airclues' of the day and proceeded to expand on the character of Prune and a whole collection of fellow incompetents to illustrate the message of Flight Safety' to a wartime RAF. If you can find example of Tee Emm I recommend you read them as not only are they hysterically funny but the message hasn't changed in 60 years. Also Tee Emm awarded TMHDAOTIF (The Most Highly Derogatory Award of the Irremovable Finger) to the most amusing flight safety or aviation related idiot of the month.
Examples that stick in my head are the Beaufighter night fighter pilot who spent some time circling a red light on the ground until he realised it was his port nav light, and the Spitfire pilot who on being questioned by his boss why his taxi speed was so excessive replied by saying that as his fuel was low he wanted to ensure he got back to his dispersal before running dry!

Join Date: Apr 2001
Location: East of Gibraltar
Posts: 99
Or the instructor pilot teaching a student to fly radio beams, follows the wrong beam and lands at a disused airfield at night!
The studen was sent solo there and then, flew the correct beam and landed at the correct airfield. leaving the instructor in the middle of nowhere, in the dark!
Brilliant stuff.




Join Date: Dec 2000
Location: UK
Posts: 737
Indeed. The link to The Mumbles of Edward Sparks will take you to the contents page, and there are some excerpts from Tee Emm. (The image on my initial post being one of them)
This'll take you there directly. Do it now.
http://www.users.zetnet.co.uk/sparkes/teeemmindex.htm
Also, a google search (W Hooper cartoon prune) will take you to a book celebrating Pilot Officer Prune
http://www.usedbookcentral.com/cgi-b...10456&jump=120
Pilot Officer Prune's Picture Parade!
HOOPER, Bill: The Royal Air Force Museum/HMSO 50th anniversary retrospective of the WWII creation of the Royal Air Force's 'Pilot Officer Prune', a cartoon character used in training manuals of the period. 55pp, profusely illustrated in clor and in b&w. Bright, clean, unmarked copy with a sound binding. Weight, 300g. S Britain - History & Politics World War II Aviation - Military Laminated Pictorial Wraps 1991 Book Condition:VG+ RAF, Royal Air Force, Humor, WWII First Edition 16466 $8.50


Gentleman Aviator
Join Date: Jul 2000
Location: Teetering Towers - somewhere in the Shires
Age: 70
Posts: 3,385
When I was a stude at Linton in '68, the Mess had a full set of bound copies of Tee Emm. Great reading! Are they still at LOO, if not, where did they go and when?

Join Date: Dec 2000
Location: UK
Posts: 737
The entire Tee Emm collection from April 1941 to March 1946 is now scanned on to CD. Sixty issues. £20
Not s'posed to post links advertising things on PPRuNe but they donate ten bob to the RAF Benevolent Fund so here it is.
http://www.cleaford.co.uk/teeemm.htm


Posting Rules
You may not post new threads
You may not post replies
You may not post attachments
You may not edit your posts
---
HTML code is Off
---