A CATALINA ON SYDNEY HARBOUR
Join Date: Jun 2005
Location: THE BLUEBIRD CAFE
Posts: 59
Likes: 0
A CATALINA ON SYDNEY HARBOUR
---
Here's a little yarn I wrote up for the Catalina website called PBY yahoo groups.


TEMPORARY FIX FOR SPRUNG RIVETS

It was also standard practice for crewmen on the Royal Australian Air Force (RAAF) Cats to have a supply of lead pencils handy.. Total number of PBYs bought for the RAAF was 168. The first ones, before the US entered the war were ferried San Diego to Australia by civilian crews, mainly from Qantas, whose pilots were experienced on the Short Class C Empire flying boats in service on the Australia-England service.

Far and away the best account of the RAAF's wartime operation of the Cats is Catalina Chronicle by David Vincent.
It is beautifully written, and a model of what a thoroughly researched history should be, but decidedly rare today. David has not got round to publishing a new edition as he has been so immersed in his mighty two volume history of the Lockheed Hudson in RAAF service. The end papers of Catalina Chronicle have a magnificent photo of a formation of a dozen Cats just arrived from the States, flying over Sydney.


A CIVILIAN CAT STORY

Sometime round the mid sixties a Canadian survey company called Sepal brought their Cat over to Australia to fulfill a few contracts. I recently met the man who was recruited to be co-pilot to the American or Canadian skipper. Bill Sigley was a young blade with a bare commercial licence and no water time at all; unlike the boss who had thousands of hours of seaplane time. During this machine's time in Australia it was operated from land based fields, such as Mascot in Sydney, the main and international airport also known as Sydney Kingsford-Smith Airport.

Now the seaplane base for Sydney was at Rose Bay, on glorious Sydney Harbour. (Shortly after I left high school I jagged a possie as airframe metal-basher apprentice there working on the conversion of a Short Sunderland to civilian guise for the Lord Howe Island service.) Anyway, Bill tells the story that towards the end of the survey Cat's time here, one lovely afternoon as they were heading over the city towards Mascot, the skipper said, looking down at Rose Bay, sparkling invitingly in the sunlight - "Hey Bill, see if you can't get a clearance for us to put down down there."

Clearance given, they touched down on a heading pointing pretty much at the ramp. Bill, who knew that the old bird was not exactly seaworthy, looked around, and as she settled off the step saw many fine gushes of water squirting up from the hull. "We're leaking badly" he called to the skipper, who simply added power, and as they were closing on the ramp and slowing called to Bill, "Gear down Bill, pronto son."

Well there they sat up on the hard for an hour or so, leaking like a shonky politician. A tractor turned them round so the Cat sat poised at the top of the ramp. The pilots climbed aboard, started engines, completed checks, got a take-off clearance, then the skipper said to Bill, "As soon as we're clear of the ramp, gear up, OK? "

Bill reckons they roared off that ramp at full tilt and were planing in no more than a hundred yards.

The finale to Bill's story is that the Cat went back to North America, ( he was offered a job if he stayed with the operation, but had already been accepted into Ansett, so stayed at home), and some time later crashed, (he thinks he heard a story of structural failure). He also thinks his old skipper was killed in that crash. To find the old sea dog's name, I asked him if he could drag out his old log books but they were stored away in some place he could not at the time get into... drat!
Join Date: Jun 2005
Location: THE BLUEBIRD CAFE
Posts: 59
Likes: 0
There are hundreds of photos from the archives on the aussieairliners website.
This evocative one depicts the Barrier Reef Airways VH-BRA at Heron Island
in 1947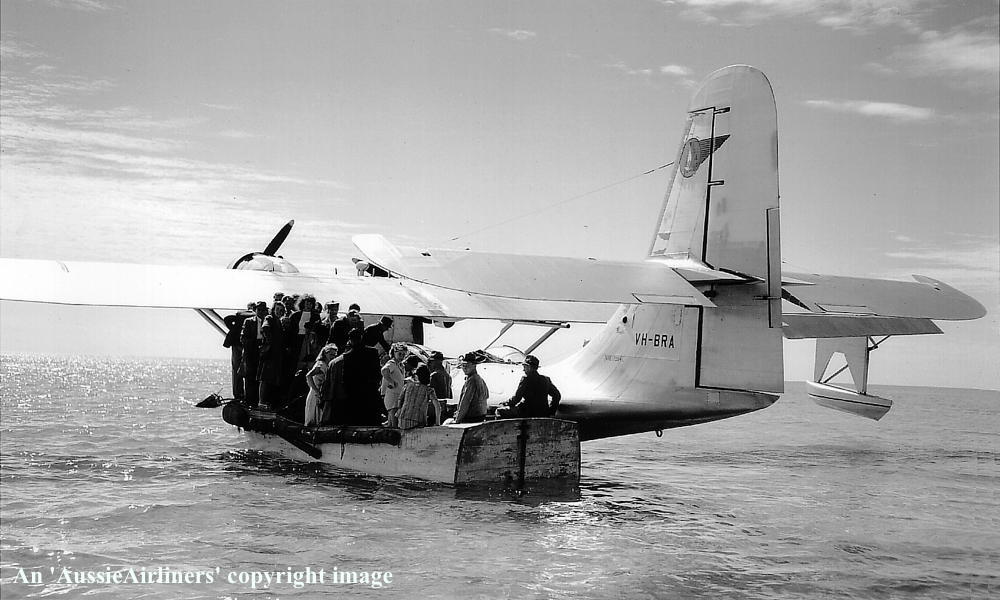 Join Date: May 2001
Location: Brisbane, Australia
Posts: 1,372
Received 0 Likes on 0 Posts
Fantome
Sepal was an Australian company which was later acquired by Adastra. Suspect you might mean Selco. Is this the aeroplane in question?
VH-UMS
Adastra had their own Catalina:
VH-AGB
There was another survey Cat operated by Geoterrex. This is the aircraft now at the RAAF Museum:
VH-EXG
Alighting on Rose Bay was a brave call. The survey gear was probably worth more than the aeroplane!
Rgds

Posting Rules
You may not post new threads
You may not post replies
You may not post attachments
You may not edit your posts
---
HTML code is Off
---