Aquila Airways G-AKNU
Join Date: Oct 2006
Location: It wasn't me, I wasn't there, wrong country ;-)
Age: 73
Posts: 1,757
Aquila Airways G-AKNU
---
All lost on the night of 15/11/1957 RIP

Memorial service at St. Mary's Church IoW @ 1500LT today 18/11/07

My father was called out very early the ext morning to route to the IoW as part of the MTCA investigation/recovery team. He was very traumatised by what he experienced, this having been through France, Western Dessert etc in WW-II. He would not talk about this up to his passing.

Apologies for the late post.
Join Date: Apr 2005
Location: Germany
Posts: 276
Warning Toxic!
Disgusted of Tunbridge
Join Date: Jan 2005
Location: Hampshire, UK
Posts: 4,011
Our local radio station has been talking about this accident today. I can't remember hearing of this local accident before. Does anyone have any knowledge of what happened or any further details as I can't get anything up about it on Google apart from the BBC anniversary report?-
http://www.bbc.co.uk/southtoday/cont..._feature.shtml
Join Date: Mar 2001
Location: Wet Coast
Posts: 2,336
Join Date: Oct 2006
Location: It wasn't me, I wasn't there, wrong country ;-)
Age: 73
Posts: 1,757
Aquila
---
There were 14 pulled from the aircraft before it burned, my error, but does not detract from the sentiment. How many of those who survived the pre-fire is not recorded.
Join Date: Nov 2006
Location: South of the M4
Posts: 1,451
More details available in following file at NA, Kew.
DR 11/22
Short S.45 Solent 3 G-AKNU accident at Brook, IOW, 15 November 1957
1957 Dec - 1958 July
And press cuttings below.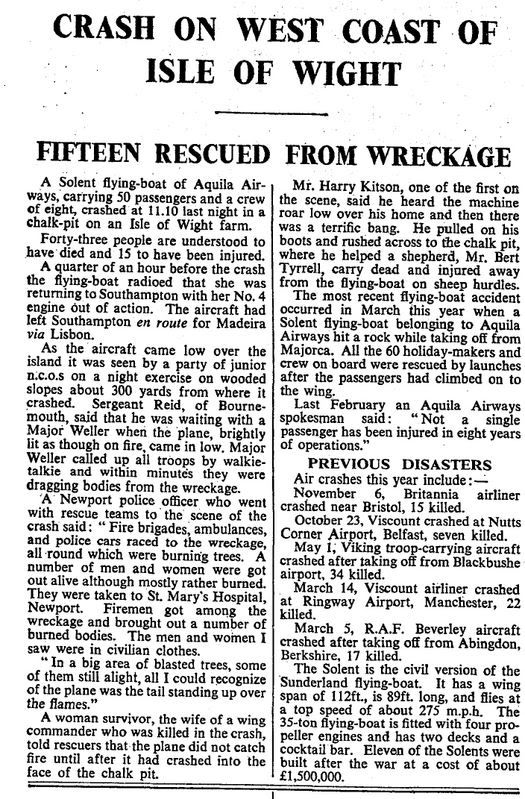 ---
Last edited by Warmtoast; 19th Nov 2007 at

23:09

. Reason: Addition of The Times Digital Online Archive reports

Posting Rules
You may not post new threads
You may not post replies
You may not post attachments
You may not edit your posts
---
HTML code is Off
---