Climate change will lead to bumpier flights, say scientists
Join Date: Sep 2005
Location: Springfield
Posts: 736
Received 0 Likes on 0 Posts
Climate change will lead to bumpier flights, say scientists
---
The shifting of the jet stream over Europe caused by global warming will lead to clear-air turbulence.
Climate change will lead to bumpier flights caused by increased mid-air turbulence, according to an analysis by scientists of the impact of global warming on weather systems over the next four decades.
The increasing air turbulence results from the impact of climate change on the jet streams, the fast, mile-wide winds that whistle round the planet at the same altitude as airliners. The shifting of the jet stream over Europe has also been blamed for the UK's wash-out summer in 2012 and frozen spring this year.
more, click here.........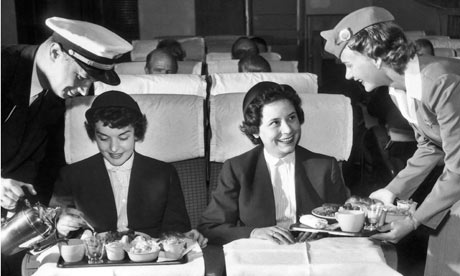 Flights have become bumpier in the past 44 years, and are set to get worse as climate change affects the jet stream, a study has shown.
Photograph: Pictorial Parade/Getty Images
Fasten your seatbelts: climate change doubles turbulence risk to aircraft - University of Reading - YouTube

Join Date: Feb 1998
Location: Formerly of Nam
Posts: 1,595
Likes: 0
Received 0 Likes on 0 Posts
This latest rant from the International Socialist warmistas and
their bankrollers should be in JB where it belongs (attached to
the Climate Change Debate thread) and not TL.
More bang for your buck
Join Date: Nov 2005
Location: land of the clanger
Age: 80
Posts: 3,512
Likes: 0
Received 0 Likes on 0 Posts
Well lets see what the Met Office has to say shall we
Heathrow Harry
The jet stream, like our weather, is subject to natural variability – that is the random nature of our weather which means it is different from one week, month or year to the next. We expect it to move around and it has moved to the south of the UK in summertime many times before in the past. It has, however, been particularly persistent in holding that position this year – hence the prolonged unsettled weather.

This could be due to natural variability – a bad run of coincidence, if you will – but scientific research is ongoing research to investigate whether other factors at play.
Source:
Met Office?s Private Briefing Document For The Environment Agency | NOT A LOT OF PEOPLE KNOW THAT
---
Last edited by green granite; 11th Apr 2013 at

13:53

.

Join Date: Mar 2001
Location: Europe
Age: 55
Posts: 409
Likes: 0
Received 0 Likes on 0 Posts
how can you say there is ZERO evidence when the article quotes people who are providing evidence?

or do you mean "no evidence that agrees with my views"
There is not evidence but speculative opinion.

Join Date: Dec 2006
Location: Florida and wherever my laptop is
Posts: 1,350
Likes: 0
Received 0 Likes on 0 Posts
The UK Met Office and the IPCC have accepted that there has been no statistically significant 'global warming' since 1997. So in the face of no change we will get more turbulence in jet streams?
CO2 itself cannot cause global warming it is a trace gas that scatters (absorbs then immediately re-emits) infrared photons in 3 narrow bands which are already mainly in the water vapor absorption bands. The hypothesis of anthropogenic global warming - was that the extra CO2 in the atmosphere would cause sufficient warming to accelerate the hydrological cycle leading to more water vapor in the atmosphere and that extra water vapor would lead to more infrared being trapped and that would lead to more warming then more water vapor etc etc to Venusian atmosphere tipping points...
The hypothesized extra water vapor being driven by CO2 would be found as a hot spot in the tropical troposphere at or around the tropopause. This hotspot appears in
EVERY
global climate model. (Un)fortunately, after several thousand balloon sondes, satellite microwave scanning and met flights - no trace of this hotspot has been found not at all nothing. So not only has there been no warming but the single agreed on signal of the atmosphere warming the tropical tropospheric hotspot is not there. What _
has
_ happened is that the Earth has warmed out of the Little Ice Age which ended after a few hundred years in the late 1700's and that warming has been in fits and starts. Russian scientists are now convinced that the Earth is cooling again. (see below)
The Antarctic is at record ice levels and record cold. Greenland recently set some record cold temperatures. The Arctic ice did melt last summer to levels it reached in the late 1920's and has now all refrozen at record speed. There is apparently an oscillation of ice at the North or South poles.
The jet streams indubitably moved equatorward as anyone flying the North Atlantic Ocean Track Structure will tell you. I have seen some really strange mid-Atlantic crossings in the last few years. However, that is more likely due to the reduction in convection in the ITCZ - or as the weather people would call it the Hadley cells - these are the convective cells where the Earth receives most heat from the Sun between the tropics of Capricorn and Cancer. If they do not bubble up and force the temperate jet streams poleward then you get what is happening now - jet streams moving equatorward. Imagine a pan of water with a single heat source in the middle seeing it welling up and outward.
The weather systems run along the jet streams in the 'Ferrel Cells' as the Hadley cell energy declines there is a tendency for the jet streams not only to move equatorward but also to become loopy - in what is called Rossby waves big meridonal loops. The energy in the jets reduces and they can be 'blocked' with blocking high pressure systems sometimes called omega highs due to the jet stream shape. When they block and stick in position some areas stay wet (UK last year) and others stay very dry (Texas and the mid-west USA last year).
It is this drop in energy in the tropics that the Russian astronomers are blaming on the Sun which is pushing out less shortwave radiation and more longwave - shortwave radiation warms the oceans longwave can actually cool them. The Sun is very quiet in its current Solar Cycle 24 and the possibility is that it could enter a 'minimum' with very few sun spots - as it did back in the beginning of the Little Ice Age in what was called the Maunder Minimum.
Possibly more than most of you wanted - but Google it - don't trust me

Look at
Russian Academy Of Sciences Experts Warn Of Imminent Cold Period: ?Global Warming Is A Marketing Trick?

Join Date: Nov 2012
Location: Planet Claire
Posts: 581
Likes: 0
Received 0 Likes on 0 Posts
The works 'Aww, f**k off' spring to mind, whenever I hear the latest catastrophic 'Global Warming' emission.
Bring it on!
Here in Scotland we could easily stand 10C extra, all year, from now until further notice- and make full use of it!
Global warming
my arse.
Join Date: Dec 2006
Location: .
Age: 35
Posts: 649
Likes: 0
Received 0 Likes on 0 Posts
Hear hear AtomKraft. My instant reaction whenever I see/hear an article title beginning with the dreaded words "Climate Change..." I instantly think "here we go again, yet another load of bollocks".

"More turbulence". Define "more". Turbulence is not a measurable or quantifiable medium. Does it mean "stronger"? In what way? Or does it mean "more occurrance". Again how is this measured.

Yet again, just another load of baws related to the great swindle of Climate Change.

Join Date: Nov 2012
Location: Planet Claire
Posts: 581
Likes: 0
Received 0 Likes on 0 Posts
Guys, the 'Climate Change Fannies' are squawking about a temp rise of 0.6C in the last 150 years!
**** OFF!
We need 6C in the next 150 minutes. For starters!
And
anothe
r 6C later on, after we've binned the fake tan.
Bring the ****er
ON!
Join Date: Dec 2012
Location: nowhere
Posts: 151
Likes: 0
Received 0 Likes on 0 Posts
It would appear that most pilots I don't know are ******g idiots!!

It would also appear that GW science is absolute rubbish, but there is overwhelming evidence to support the belief that putting a person behind a control column turns them into a know nothing w*nker. Source of evidence....PPRuNe.

Posting Rules
You may not post new threads
You may not post replies
You may not post attachments
You may not edit your posts
---
HTML code is Off
---