[VIDEO] Full Flight, Southampton to Manchester (Flybe Dash 8)
Join Date: Mar 2012
Location: Mansfield, UK
Age: 39
Posts: 60
[VIDEO] Full Flight, Southampton to Manchester (Flybe Dash 8)
---
Hi all
Thought you guys might enjoy my latest full flight video

This is my latest full flight video from New Years' Eve, when I flew Manchester to Southampton and back. This is the entire flight with ATC from Southampton to Manchester. Hope you enjoy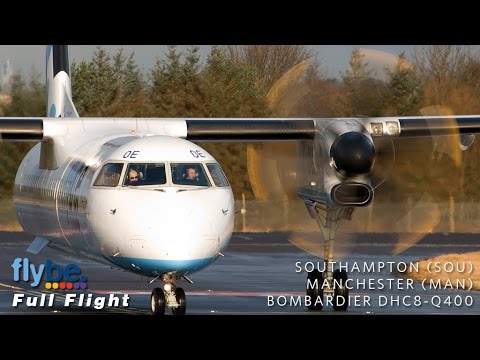 https://www.youtube.com/watch?v=pzb8EaEGxFI
The video begins as we enter the terminal at Southampton, and head through security to the small departure lounge. It is soon time for boarding and we walk out to the aircraft and take our seat in seat 7D. We receive our route clearance from Southampton Tower and soon get our push and start clearance. We backtrack down runway 20 for departure, holding short for a helicopter departing the airfield. Once he is gone we are cleared for takeoff. After takeoff we turn on a north-easterly heading, towards London, climbing to 20,000ft. After a left turn we continue north on a beautiful clear morning, getting a great view of the cities of Milton Keynes, Northampton, Leicester and Derby, and a great view of East Midlands Airport. We commence our approach over the beautiful Peak District which is again under clear skies, turning over Stockport for our final approach. We are cleared to land on runway 23R, and touchdown early, taxying into Terminal 3.
Airline: Flybe
Flight: BE863
Aircraft: Bombardier DHC8-Q400 G-ECOE
From: Southampton (SOU)
To: Manchester (MAN)
Departure: 10:33
Arrival: 11:16
Flight Time: 00:43
Seat: 7D
Flight path:
BEE863-FA-StartEnd-Int
Join Date: Jul 2009
Location: NI
Posts: 1,011
Never quite knowing what Bombardier are calling that aeroplane this week, I went off and looked at the TCDS:
TCDS A13NM Rev 20 Bombardier Inc.
DHC-8-400, 401 and 402. Not a Q in sight. Was that just a marketing gimmick?

Posting Rules
You may not post new threads
You may not post replies
You may not post attachments
You may not edit your posts
---
HTML code is Off
---