Jeppesen navdata error
Join Date: Oct 2006
Location: , Location, Location
Posts: 146
Amended Jandakot Departure Procedures
---
According to the online DAP, MANTL7 and SCARP1 departures are still current. But loading the YPJT departures yesterday after the recent update, I got MANTL8 and SCARP2 and a new one called TONEG1.
After reading the posts below - looks like I have missed the AIP SUP H34/15 per the trigger notam for Jandakot.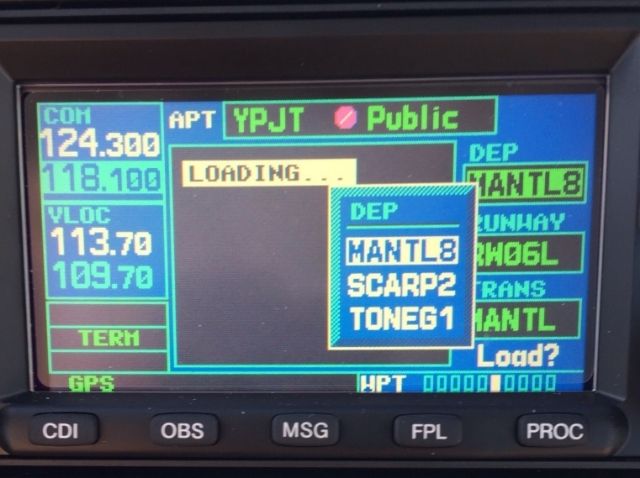 ---
Last edited by QFF; 31st May 2015 at

12:10

. Reason: Amended to reflect new procedure (and inability to read NOTAMs) rather than Jepp error
Join Date: Jun 2006
Location: 3rd rock from the sun
Posts: 1,614
Refer your NOTAM's for Jandakot:
Join Date: Jan 2008
Location: Australia
Posts: 229
I was going to say "Welcome to the wonderful world of Jepps" which is what I was told by a controller in a similar situation, except it looks like a case of the wonderful world of DAPs ... "we've got an amendment for you, but we forgot to amend the docs."

Join Date: May 2003
Location: Wide Brown Land
Age: 35
Posts: 516
There are a few new waypoints around the Cultana restricted areas between Port Augusta and Whyalla that apparently didn't make it into the update either. They're in ERSA and on the maps but it appears a few operators didn't get them in their latest FMC updates.
Join Date: Oct 2006
Location: , Location, Location
Posts: 146
Thanks regitacro and morno - mea culpa. I remember reading the notam directly above but not the trigger notam. Go figure.

How hard is it to insert a note, link or even the new procedures into the online DAP ?

Posting Rules
You may not post new threads
You may not post replies
You may not post attachments
You may not edit your posts
---
HTML code is Off
---