Global Hawk first flight across UK
Join Date: Feb 2006
Location: The Alps
Posts: 2,377
Global Hawk first flight across UK
---
First flights for Global Hawk over the UK
Though unwittingly last years RIAT, I spied a Global Hawk tucked behind the hangars in my pic ....thought there must not be room for it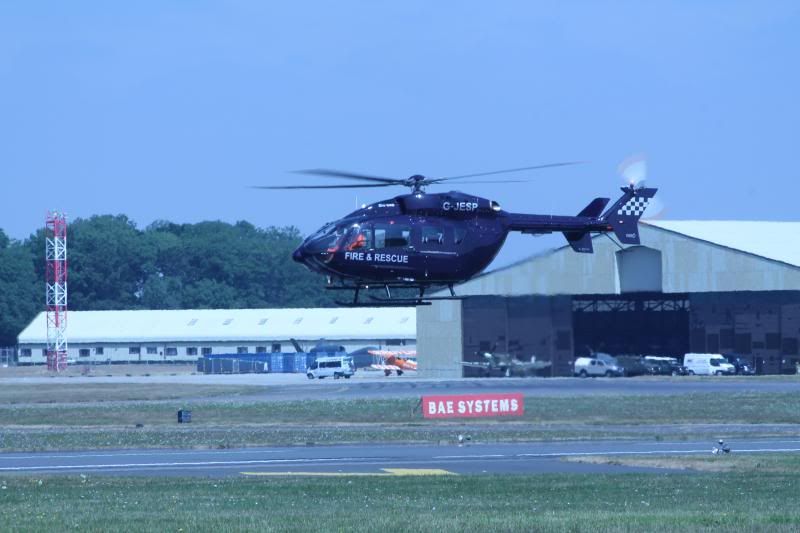 I took that pic on the sunday as on the sat, it was in full view as opposed to containers around it

cheers
Join Date: Jul 2006
Location: The back of beyond
Posts: 1,608
That's a very interesting pic chopper, don't quite know what to make of it. It did occur to me that it might be the static mock-up that NG carts around the show circuit, but that makes no sense for RIAT (and on the far side of the field also).

Edited to add: BTW, I would have been stood very close to you during that EMS helicopter display ;-)
Join Date: Sep 2010
Location: Arizona, USA
Posts: 1,054
It most probably was the GM demo item and it makes perfect sense for it to be there if the purpose was to show it to invited guests. In my day at Fairford, the RIAT Reception / Dinner was held in that hangar with car parking on the concrete in front of where the Global Hawk is - various back-drop items were in the vicinity (eg BBMF aircraft) and it would not surprise me if some exhibit opportunities were monetized. Just a guess.
Join Date: Apr 2009
Location: Hotel Gypsy
Posts: 2,831
Interesting timing. Global Hawk has flown in UK airspace at least twice. The first time was in the mid-2000s on its way to Germany although it never got even close to overflight of a UK landmass. However Google is telling us that there has been activity in the very recent past as part of a NATO exercise.
Join Date: May 2009
Location: Here
Posts: 1,288
Interesting given the reasons/excuse the Germans gave for cancelling Eurohawk
Germany axes Euro Hawk drone program | Defense News | defensenews.com
In particular, in this one
http://www.dw.de/german-defense-mini...cle/a-16964646
The American airspace permit for the Euro Hawk - the prototype was built in the US - was not valid in Germany and could not be obtained, because German regulators had no experience with the new drone technology. And according to the German defense ministry, the American side withheld documents detailing the technical specifications of the Euro Hawk. As a consequence, it could not be proven beyond doubt that the Euro Hawk would not pose a danger to civilian air traffic
Shades of Rivet Joint....
Join Date: Sep 2003
Location: Perth, Western Australia
Posts: 786
It's been around for a while now: in April 2001 one flew non-stop across the pacific from USA to Australia - no one on board an a/c with the wingspan of a 737! Not much fanfare at the time but quite a capability non the less.
Join Date: Mar 2008
Location: lincs
Posts: 101

Posting Rules
You may not post new threads
You may not post replies
You may not post attachments
You may not edit your posts
---
HTML code is Off
---