Apocryphal Tales
Join Date: Sep 2009
Location: Just over the road from Bicester airfield
Age: 77
Posts: 411
Vist to Swanton Morley !
---
Back in the late 70's I was a member of the RAF Motor Sports Association & drove a Group 4 2600cc Vauxhall Magnum representing first Lyneham then Finningley, I had an entry for an event up in the wilds of Norfolk so my navigator & self (both Chiefs) booked an overnight room at Swanton Morley, following us was the Boss of the RAFMSA driving the Transit support vehicle, arranged to meet up outside our Mess, on arrival the place mid afternoon was empty so we pulled up in front of the Mess to be joined by Boss in the Transit. We spent a couple of minutes chatting, recovering etc when we noticed a WO at the front door of the Mess, short sleeve blue shirt, trousers no tie, WO badge on leather strap around his wrist and carpet slippers ! chewing on a piece of toast & jam, well he launched into us "what were we doing in HIS car park outside HIS mess, with these smelly cars, etc, who are you, why are you here, where are you from etc, etc all the while going more purple, so both of us Chiefs announced who we were as Ch/Tech me, Ch/Tech nav & the Boss (oldish & quite distinguished gentleman should add) as AC *******.
At which said WO went into overdrive, his toast had long gone but again launched into " you people taking the p1ss, AC's don't exist in this Air Force etc" becoming more enraged & with threats to have us arrested,
So we very carefully produced our 1250's, Boss AC did same with ID (do they have 1250's ?) WO went ballistic, our Boss was an Air Commodore hence AC ! at this point WO just about dissolve into himself with apologies to Boss, thought really quite amusing, Boss being the perfect gent countered with" quite all right old chap, now can you look after my men ?) we were led into the mess found rooms & offered afternoon tea, make yourselves comfortable, anything I can get you etc, well we went off that evening did the event , back into SM in the morning, WO organized our breakfasts , turned out not only to be the PMC but also a very nice man, not been back there since, but just one little escapade that goes in the memoirs as I reflect on 25 years of undetected crime & I am still competing in motor sport !. PH, Bicester
Here it is after another night of collecting trophies.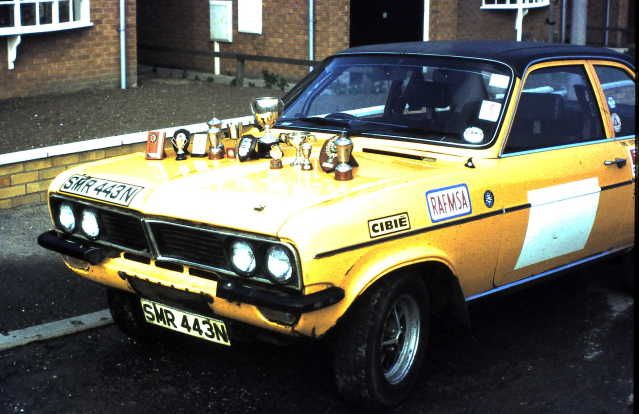 Join Date: Aug 2007
Location: Cambridge
Posts: 649
On RAF Germany's premier FR squadron....
---
....when one was declared operational, it was 'traditional' for one to celebrate by flying under the Kiel Canal Bridge in one's mount.


One day, a young squadron pilot (who was famed for his low level flying in later years) who along with a colleague was performing said manoeuvre, was spotted and his serial number reported by the local constabulary.


Squadron CO was summoned to AOC for a boll***ing, only to plead innocence - 'not briefed sir'......An officer from HQ RAFG was sent to investigate this (and many other similar) reported incidents, and reportedly arrived at the bridge just in time to see 4 Venoms do the same trick....


Officer reports back to HQ that if the two Meteor pilots were to be court-martialled, then many other officers in the command should be too.


Said officers were given an AOC's interview and returned to the UK, unscathed.

Posting Rules
You may not post new threads
You may not post replies
You may not post attachments
You may not edit your posts
---
HTML code is Off
---