Future Carrier (Including Costs)
Join Date: Feb 2002
Location: Devon
Posts: 2,474
I do wonder what all you critics will say when HMS Queen Elizabeth takes part in a NATO exercise like Deep Blue - which must be overdue since we have not done one since 2016? Showing that we can protect crisis response shipping from submarine and air threats - and enhancing stability in the North Atlantic and European region?

Personally I dislike pictures of task groups in tight formations as it paints a thousand wrong words. The whole point of a task group is that it spreads out over a considerable area. As I and others have tried to say, the carrier's aircraft work with frigates and destroyers to provide capabilities. In some ways it would be more accurate to describe surface warships in a carrier group as consorts rather than simply escorts.
Join Date: Jan 2010
Location: UK
Posts: 150
Join Date: Feb 2002
Location: Devon
Posts: 2,474
Her first NATO (and national) mission - one of many. Peace through strength.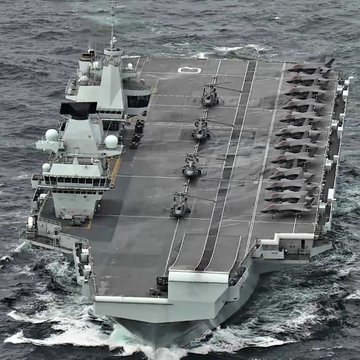 The value of a larger ship and a larger deck is obvious from this picture.
Look at the way it lands so smoothly compared with Sea Harrier and Harrier GR7/9. In
Sea Harrier Over The Falklands
, Sharkey Ward said he hoped that the successor to the Sea Harrier would be easier to land. Well - here it is, with fifth generation avionics and LO. Both air defence (controlled by a shipborne Freddy) and attack have been part of this exercise.
In future the number of F-35B (are we officially calling it the Lightning?) will increase, operated by the joint RN/RAF force (recent window licking over this has been seen - from Peter 'Ignore The Science' Hitchens, and with be supported by Crowsnest. The air to air capability will hopefully be enhanced by Meteor. With The US looking to build light fleet carriers based on the
America
class LHD, so maybe it will be getting some sort of anti ship weapon integrated?
However, it is not all about the jets.
The Pingers contribute to task group ASW capabilities and work with the frigates and their helicopters, and the Junglies do their stuff. The Junglies can relieve the Pingers of much SAR/VERTREP/HDS tasking. Co-ordinated ASW was part of this exercise.
---
Last edited by WE Branch Fanatic; 16th Oct 2020 at

11:34

.
Join Date: Feb 2002
Location: Devon
Posts: 2,474
Are you talking about the use of Twitter? Yes I have my doubts too, but remember it does reach people, and the average person has a shorter attention span that the average Goldfish. A fuller explanation would be that the intercept was controlled by HMS Defender - in other words the destroyer is actively involved in carrier based air defence. Likewise HMS Kent could track a submarine but to localise and prosecute you need helicopters with dipping sonar.

As for 'silent service' - well that worked well in the past....... Apart from making the RN more vulnerable to cuts and political interference, that is. A poorly articulated case for new carriers in the sixties, based on an out of area role instead of NATO (it was the need for ASW and supporting air defence in the Atlantic that led to the Invincible class/Sea Harrier/ASW and AEW Sea Kings), then not being willing to flag up the role of the Sea Harrier throughout the nineties and beyond, and then being at risk of deeper cuts and suffering political interference due to the reasons for a number of things being the way they were not being adequately articulated, that is.

Posting Rules
You may not post new threads
You may not post replies
You may not post attachments
You may not edit your posts
---
HTML code is Off
---