Glyn Powell RIP
Join Date: Jun 2002
Location: CYYC (Calgary)
Posts: 5,115
Glyn Powell RIP
---
I've just seen this on Facebook:
Glyn Powell QSM 1934 - 2019.
It is with a heavy heart and enormous sadness to announce that my dearest friend Glyn Powell passed away yesterday 26th November. Glyn passed peacefully in a rest home surrounded by his immediate family. Glyn had been unwell for some time but his sudden passing still comes as a huge shock.

It was Glynís enormous vision, courage and determination that enabled him to build from scratch, all the necessary tooling to rebuild the wooden DH Mosquito airframe, something thought impossible by everyone except Glyn. The complex fuselage moulds alone took Glyn five years to build and they are an engineering masterpiece in their own right. As a result of Glynís vision, there are now three NZ restored Mosquitos flying in the USA with two more on their way. Glyn received The Queens Services Medal (QSM) for services to aeronautical heritage preservation in 2014.

Sadly, Glyn never saw his initial ambition of completing and flying his own Mosquito NZ2308. However NZ2308 is earmarked for the Mosquito Pathfinders Trust in the UK, and all going to plan, it will be completed at Avspecs at Ardmore and operated by the Pathfinders Trust out of Duxford UK. A fitting legacy to Glyn and his remarkable achievements.

Glynís enormous self belief and never give up attitude is an inspiration to us all. He must rank as one of our most remarkable New Zealanders, who against all odds, achieved the impossible in his own shed on a shoe string budget. It has been a complete and utter privilege to have known him.
https://www.facebook.com/groups/7179...57881919023656
---
Last edited by India Four Two; 27th Nov 2019 at

02:28

.
Join Date: Apr 2008
Location: Hampshire
Posts: 371
This news is overwhelmingly sad. As well as others, what a loss to the historic aircraft restoration community. I corresponded with Mr. Powell over many months and was the beneficiary of his sage advice regarding my own Mosquito rebuild project. Perhaps we can turn our thoughts to establishing a memorial to his memory in this country. His life's work should be remembered as an outstanding example of the virtues of perseverance, dedication and resolution.

A marvellously resolute person.
Join Date: Nov 2010
Location: Masterton, NZ
Age: 65
Posts: 203
My understanding is that Glyn's own former-RNZAF Mosquito airframe, which was the entire reason why he spent years creating those moulds, is the next Mosquito under restoration and that it is heading for a trust in the UK.
So you ARE going to see a Mosquito in UK skies again.
Join Date: Jun 2002
Location: CYYC (Calgary)
Posts: 5,115
NZ Warbirds have just announced they will be live-streaming Glyn's funeral service on 03 December 0000Z
I never met Glyn but I did meet some of the people involved with the Mosquito project and I was privileged to be allowed to sit in the cockpit of KA114, shortly after the maiden flight. I'll be logging in to hear the reminiscences.
Gnome de PPRuNe
Join Date: Jan 2002
Location: Too close to Croydon for comfort
Age: 55
Posts: 5,920
Join Date: Jun 2002
Location: CYYC (Calgary)
Posts: 5,115
Thanks treadders for that great link. In that tribute article is another link that is definitely worth reading:
For the Love of the Mosquito Dream
The story of Glyn Powell brings to mind the phrase "a number 8 wire mentality" which is a common expression in NZ, but perhaps not familiar to non-Kiwis.
... remote farms often had rolls of number 8 wire on hand, and the wire would often be used inventively and practically to solve mechanical or structural problems other than fencing. Accordingly, the term "number 8 wire" came to represent the ingenuity and resourcefulness of New Zealanders and the phrase "a number 8 wire mentality" evolved to denote an ability to create or repair machinery using whatever scrap materials are available on hand.
https://en.wikipedia.org/wiki/Number_8_wire
Two other Kiwis with "a number 8 wire mentality" were
Burt Munro
and
John Britten
.
---
Last edited by India Four Two; 29th Nov 2019 at

01:40

.
Gnome de PPRuNe
Join Date: Jan 2002
Location: Too close to Croydon for comfort
Age: 55
Posts: 5,920
Looking at the tribute, it seems there might be parts for a couple more builds further down the line - one each for New Zealand and Aussie skies...

In respect to Burt Munro, "The World's Fastest Indian", while no doubt filmed with a fair bit of licence, is a great film!
Join Date: Jun 2002
Location: CYYC (Calgary)
Posts: 5,115
Yes, a great film:
Highway Patrol Officer: "Do you know how fast you were goin' back there?"
Burt: "Yeah, about 150, 160 miles an hour."
Officer, laughing: "Yeah, that sounds about right."
And there's a modern aeronautical connection - the Kiwi Yak-3 "Full Noise" which raced at Reno and made it to the finals, carries Burt's race number: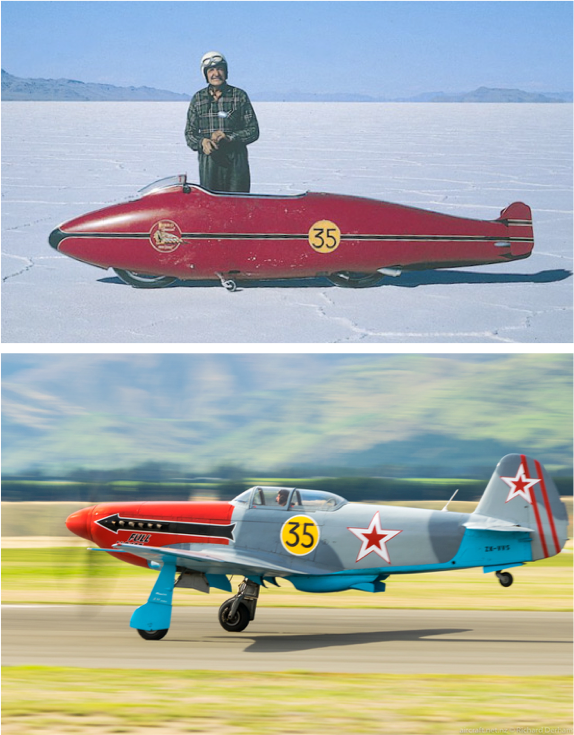 Posting Rules
You may not post new threads
You may not post replies
You may not post attachments
You may not edit your posts
---
HTML code is Off
---