RAF Bovingdon - 1960s
Join Date: Feb 2006
Location: 11 GROUP
Age: 73
Posts: 1,008
Very British just add a teapot and some cucumber sandwiches. Looks like the local PFA strut are deciding what instruments to acquire.
Maguire was a tad unlucky, another 5 mins he would have made Biggin.
I remember the 'event' on the national news, it was 1959 and the Sunday after the Biggin 'At Home' day. 363 was not so lucky decades later when it suffered camshaft failure en route Jersey and pancaked at Wittering where it was consumed by fire. It had been the last flying Hurricane held on RAF charge since the war until joined by PZ 865 (last Hurricane built) when donated by Hawkers. I was at the Biggin At Home the day before (age 12) memorable for me by being allowed to fire a Bren gun at the butts for a contribution into the RAFA box. (imagine that happening now). Bovingdon still available for landing PPR as part of one runway owned by local farm.
Join Date: Nov 2005
Location: River Thames & Surrey
Age: 71
Posts: 8,621
Join Date: Feb 2001
Location: Under the clouds now
Age: 82
Posts: 2,175
Actually the CCCS was the CCCF. Coastal Command Communications Flight. Pedantic I know, but I am sure that was what it was called when I was on it in 1961/2. We were much smaller than Fighter Com with 4 Anson,s a VIP Valetta and a Flight Lieutenant boss called Dickie Colbourne.
Join Date: Feb 2006
Location: 11 GROUP
Age: 73
Posts: 1,008
Cadet 'Air Rides'
---
Although living near Kenley was a boon for the gliding it was devoid of RAF power flying by 59 as was Biggin Hill, hence having to 'go north' before one could start 'Air Hitching'. and even Northolt was not 'around the corner' so to speak.
However what was evident was how helpful all the various units were to get you airborne even if you arrived at the Guard room 'unannounced' so to speak.
In my case the Gliding took over from power 'rides' plus led to an amazing association with the famous BoB stations of Kenley and Biggin Hill: we described our Cadet MK 3 gliders as the fretwork fighters. In fact the initial 'winch launch ' experience in a MK 3 was far more exciting than the sedate t off in a Chipmunk with 800-1000 ft gained by the airfield boundary (and Kenley was quite small).
From the Kenley circuit both Croydon and Biggin were only a short hop, and indeed it was not unknown to take the T21 to Croydon using the thermals from the built up area. The original 11 Group Fighter haven had migrated across the Thames and East but you never take its history away.


Gnome de PPRuNe
Join Date: Jan 2002
Location: Too close to Croydon for comfort
Age: 56
Posts: 6,577
indeed it was not unknown to take the T21 to Croydon using the thermals from the built up area.
I have seen current Kenley residents (can't recall if they were Surrey Hills or 615) north of Croydon, possibly as far as Crystal Palace. Easier feat than in a Barge I should imagine!
Join Date: Dec 2007
Location: northofwhereiusedtobe
Posts: 1,286
Originally Posted by
POBJOY
The Stumps went to Halton. SL 574 still has the three marks on the wing, Bromley is built up and Maguire was low. His arrival did little damage to the airframe (it was on its wheels the next day) but the prop was shattered.There is a wonderful image of the ongoing cricket match going on after lunch with 574 on its belly near the boundary. Peter Arnold had some great shots. There was quite a debate on whether the stumps could have caused dents in the leading edge of the wing and it got quite heated. Considering they would have been impacted at about 50 mph, and images were produced that showed the repairs in progress the 'non believers' as I described them would not have it, got even more annoyed when I suggested a test with someone hitting them on their head with a suitable stump and then asking them if it hurt (when they woke up that is)
I fondly remember that thread on the much lamented Key Aero Forum,I was on the side that viewed the 'stump marks' as being a little too neat and suspected that the marks were more akin to 'Service Humour'

but I certainly would not get 'heated' about it - it was a wonderful story

.
There were indeed some lovely pics on that thread.
Join Date: Feb 2006
Location: 11 GROUP
Age: 73
Posts: 1,008
Creeping Again
---
The 21 was superb for going 'up' but had no penetration, and although you could fly VFR in the London TMA then, seeing 747's underneath did get one thinking about what rules applied.!!
Anyway the 21 would have been on AE trips so it was not encouraged to be up too long. Looking back on it it was quite a large machine for a P2 staff Cadet + px to get caught out in away from the circuit. I had been lucky to fly the T53 at Swanton and thought this would be great when we got them as it would have allowed more probing away and less problems with ground handling if a squall came through. It was not to be, and the organisation eventually had the Venture which was considered too underpowered to operate from Kenley.(what was needed were thinner Pilots) , and a licence built Blanik. that could take the 'all winch' operation. My other abiding memory of BV was the line of Ansons on the flight line which added a 1930's theme to the place, some had come from Kenley when they ceased ops there.
Join Date: Dec 2008
Location: Over Will's mother's, and climbing
Age: 63
Posts: 320
John Young's Bovingdon memories
---
For those who haven't seen it, here's a
link
to famed aviation artist John Young's compendium of memories and pictures of Bovingdon airfield. Just scroll down to the relevant pdf link.
Join Date: Apr 2008
Location: NORFOLK UK
Age: 73
Posts: 540
Accident P40E Warhawk 41-36028 at Berkhamsted 23-9-1942
---
John Young lists the presence of P40s in his Bovingdon diary. During 1942 two and in 1943 one Curtiss P40E Warhawk aeroplanes were based with the 8th A.A.F. at Bovingdon. They were used for fast liason and other general duties. Both aeroplanes were destroyed in fatal accidents. I'll mention here that I'm downloading excerpts from the original accident reports and the quality leaves much to be desired. However it's worth a squint.
Berkhamsted (in 1938). Looking North-east. Small highlight gives approx location of crash site on L.M.S. Railway.
Aftermath looking North.
David's Home was on Castle Hill Avenue which is to the right and above the houses in the foreground.The view is to the south-east. Impact point (approx) and Bovingdon Aerodrome high-lighted.
I suppose this is the equivalent of what we used to call the tech log. It shows that the aircraft has just had an air test on September 21st following replacement of much of the tail-plane. This was due to damage, caused by diving in to the propellor wash from B17s , which the P40 had sustained during simulated attacks. On the day of the accident the aircraft was once again tasked to do this but crashed before the exercise started. Note RAF engineers' involvement. Still RAF Bovingdon at the time.
The Thomas Coram Foundling School. Some staff members saw the starboard elevator flutter to the ground and retrieved it. Postwar (and still) Ashlyns School just off Chesham Road.. Approx location of crash site high-lighted.
A very experienced Captain and perhaps his first flight in a P40?


Captain William K Knowles. Described by Brig.Gen. J. Kemp McLaughlin as 'a very senior Captain we called "Pappy" . We all went to the American Cemetery at Madingley for his funeral, for everyone loved him'


Whipsnade tomorrow........
---
Last edited by OUAQUKGF Ops; 23rd Jun 2020 at

11:13

.
Join Date: Apr 2008
Location: NORFOLK UK
Age: 73
Posts: 540
Accident P40E Warhawk 41-35934 Whipsnade 9th October 1943
---
P40E 41-35934. Photo credit IWM - Roger Freeman Collection.
In comparison to the investigation of the crash at Berkhamsted this accident appears to have been investigated in a rather cursory manner.
The Chequers Pub Whipsnade 1944.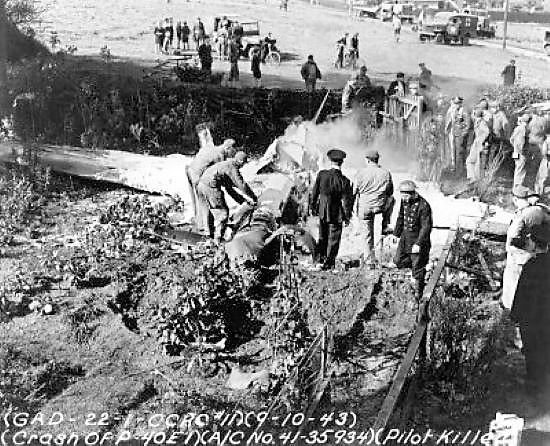 The crash is said to have occurred in the garden of the house opposite the Pub.
No longer a pub. The house opposite is, I believe, where The Land Army Girls based in the village came for their meals.
Another view of what was The Chequers with the village green beyond.
Major Glenn E Hagenbuch came from an Illinois farming family. He had been the Commanding Officer of the 427th Bomb Squadron flying B17s. On the day of the accident he was carrying out self proficiency training. He was 24 years old and left a Widow in the United States.
Most of the data I've found on Glenn Hagenbuch gives his dob as December 12th 1918 - however the publicity photograph and press release taken just after his arrival in Britain in 1942 (see American Air Museum photos on link below) state that he is 27 years old. He certainly looks 27 but then combat weighs heavy on the brave. I've also added a Flying Tigers link - you then need to scroll down to find the article about his life.
A few associated links here:
https://flyingtigersavg.com/avg-books-articles/
http://www.americanairmuseum.com/person/241051
https://virtual-library.culturalserv..._whipsnade.htm
---
Last edited by OUAQUKGF Ops; 22nd Jun 2020 at

14:35

. Reason: Correction to Pilot's age.
Join Date: Apr 2008
Location: NORFOLK UK
Age: 73
Posts: 540
A Few Avro Yorks at Bovingdon and Farther Afield
---
G-AHFD Once with B.S.A.A. and now with Skyways.
In Trooping Livery as WA 500.
G-AHFD was sold to Middle East Airlines in 1957 becoming OD-ADB.
OD-ADB looking very smart at Beirut 1957. Photo The Peter Keating Collection (c) A Flying History ltd.


Sadly OD-ADB and its five crew was lost over the Mediterranean on September 29th 1958. It was operating a cargo service from Beirut to London with a tech stop at Rome.
G-AGNY Eagle Aviation at Bovingdon 1950

In 1949 Harold Bamberg purchased Eagle's first Yorks. In 1950 the airline moved its base from Aldermarston to Luton where it was to remain until 1952.
Eagle Aviation's Halifaxes and Yorks were a familiar sight at Bovingdon. The company's first commercial flight carried cherries from Verona to Bovingdon in a Halifax on May 9th 1948. During the period of 1950-52 many flights were operated by Eagle from Bovingdon due in no small part to restricted airport opening hours and restricted customs facilities at Luton. It wasn't until 1951 that Luton Airport was granted a one year 'Customs facilities Trial' . Until then I believe that Customs and Excise staff from Bovingdon motored over to provide cover at Luton. Eagle like several of the larger British Independent Airlines relied on Government Trooping Contracts for their bread and butter. Jackie Pritchard writing in 2016 describes a journey on G-AGNY in 1951 when the airline had a contract with The Air Ministry:
' I flew on an Avro York G-AGNY this was in 1951 leaving Singapore and landing for over night stops in Ceylon, Bombay, Karachi, Iraq, Malta, and finally England. This was a bare bones flight, the plane had seating of all descriptions old car seats, coach seats, you name it, we boarded wearing only our tropical uniform but had the sense thank goodness to carry our great coats. The plane was exactly the same as if being used for cargo no heating and the fuselage was clearly visible rivets and all, we half froze to death the steward was the navigator, the food was in little brown cardboard boxes complete with dry curled up meat and not forgetting a small wooden knife and fork. I often think about that journey and wonder if there are many left who were on that flight with me
.'
Captain John 'Pancho' Villa. York Fleet Captain Eagle Aviation. When Bamberg sold his Yorks to Skyways, Villa went too.
Photo - Peter Villa.

Peter Villa Remembers: ' My father was a Captain with Eagle and later with LAC/Skyways. I attended Bovingdon Primary School and was there when the King died. We later moved to Garston and after that, Tring. I too spent time at the end of the runway and in the hangars when I could persuade Dad to take me. Independent aviation was so precarious Dad bought the caravan so he could move the family from base to base and job to job. Bovingdon sticks in my memory. We lived at Highcroft in a caravan for a while. It was parallel to the runway and you could hear the Merlins popping on the Yorks as they landed.' (pers com)
G-AGNY at Adelaide Circa 1953. Photo credit Robert Wiseman.
On June 26th 1954 while inbound to Berlin flying empty near Kyritz (Soviet occupied Germany) G-AGNY suffered an engine separation and crashed following loss of control. The crew of three were killed. The daughter of one of the pilots subsequently wrote in 2017:
' I flew in this plane in 1953 on a test flight from Stansted airport, my father was one of the pilots. He died in 1954, June 26th. It crashed over Germany with 3 crew , ironic as he flew through the war earning the DFC. I was 9 at the time and remember it clearly.'
Previously G-AMRI of Surrey Flying Services and now sold in 1955 by Freddie Laker to Air Liban OD-ACD is seen at Bovingdon.
Photo credit Bovingdon-Airfield.co.uk
OD-ACD at its new home, Beirut, 1955. This aeroplane was destroyed in a take-off accident at Tehran May 27th 1960. Three crew were injured. Photo credit The Peter Keating Collection (c) A Flying History ltd.
AND NOW FOR A BIT OF YORK DRIFT (OFF THE RUNWAY)
Brize not Bovingdon. MW168 November 28th 1946. Loss of power on N2 engine during take-off contributed to loss of control on this training detail. Photo credit baaa-acro
By 1949 the RAF had nine Squadrons of Yorks. During The Berlin Airlift 29,000 sorties were flown by these aeroplanes transporting approx 239,000 tons of supplies.
G-AGJD of BOAC at Castel Benito Libya February 1st 1949. On departure for London the York was caught by a strong gusting cross-wind. The pilot over-corrected and ran off the runway. No fatalities. Photo credit Andy Frish baaa-acro.
G-AMUM Scottish Airlines Luqa, Malta April 13th 1954. Prior departure for Stansted one engine suffered starter motor failure. The Captain elected to start the engine by wind-milling it during a high speed taxy. This was successful but control of the aircraft was lost in the process.
CF-HFP Pacific Western Airlines Cape Parry Airfield, North West Territories. June 25th 1957. Over ran on landing resulting in loss of Starboard undercarriage and damage that was beyond repair.
CAPE PARRY NORTHWEST TERRITORIES CANADA Geography Population Map cities coordinates location - Tageo.com
CF-HFX Arctic Wings at Hall Lake, Nunavut April 12th 1955. While taking off from Hall Lake the aeroplane hit a snowbank and broke its back. Both Arctic Wings and Pacific Western were amongst airlines using Yorks to re-supply the DEW Line project in Northern Canada. Photo credit baaa-acro.
As seen in 1972.
More recently.
HALL LAKE NUNAVUT CANADA Geography Population Map cities coordinates location - Tageo.com
And, if you have time to spare:
http://www.ruudleeuw.com/search116.htm
---
Last edited by OUAQUKGF Ops; 27th Jun 2020 at

21:58

.

Posting Rules
You may not post new threads
You may not post replies
You may not post attachments
You may not edit your posts
---
HTML code is Off
---