Shuttleworth Collection Evening Air Display 11/09/2004 - Photos
Join Date: Dec 2003
Location: Croydon
Posts: 309
Likes: 0
Received 0 Likes on 0 Posts
Shuttleworth Collection Evening Air Display 11/09/2004 - Photos
---
Sadly the flying season is now over at Old Warden, but what a fantastic season it's been. It's been a great year for meeting new friends which has added a great deal to the Old Warden experience.
Yesterday evening saw the show debut of the Jungmann and Rob Millinship achieving his 1,000th flying hour whilst displaying the Tutor. The windy conditions prevented the Edwardians flying, but anyone who witnessed the wonderful display last week still has very vivid memories that'll see them through the winter and beyond.
Many thanks to all of those who have worked so hard to give us all a memorable season at Old Warden, it wouldn't be possible without you all.
If you've not been to Old Warden yet, perhaps the many photos that you've seen this year will persuade you to come along next year - the more, the merrier.
Right. Enough chat, here are the photos:
This sunset just looked too good to waste............. so I stuck a spitfire in it.


Do a Hover - it avoids G
Join Date: Oct 1999
Location: Chichester West Sussex UK
Age: 90
Posts: 2,206
Likes: 0
Received 0 Likes on 0 Posts
Wonderful pictures Rob. Thank you.
Re the Spit sunset shot I don't know if you had your tongue in your cheek about you 'stuck' it in but if you did try it again having rotated the Spit 10-15 deg anticlock. To my eye such pics always look much better if there is a touch of upwards and onwards about the aircraft rather than downwards.....
For my desktop I have rotated the whole pic and recropped it to get the above effect - albeit at some cost to the amount of background.
JF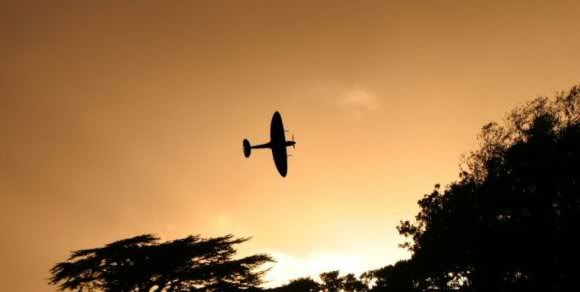 Awesome but Affordable
Join Date: Oct 2003
Location: Kings Cliffe
Posts: 489
Likes: 0
---
You are right about the season though I only attended but one show at Shuttleworth.
Congratulations to Rob Millinship. 1,000 hours is a milestone in any pilots logbook and Rob has given generously of his time and talents to Shuttleworth over so many seasons since Don Cashmore first based his replica Hawker Cygnet at Old Warden. Rob is a little challenged in the avoirdupois region and was the ideal, of not the only, pilot to fly the Cygnet with a reasonable margin of performance in terms of TOM. May he long continue to entertain the Shuttleworth aficionados in the decades to come in an ever expanding range of historic aeroplanes.
The airshow season as a whole has, so far and touching wood, been an entertaining and, especially, safe one. Despite the variable nature of this English summer's weather we have had a feast of visual and aural delight in most areas right across the country. My thanks go out to all the organisers, operators, participating pilots and, especially, those who attend airshows in their thousands who have made this memorable season possible.
Cheers,
Trapper 69


Join Date: Dec 2003
Location: Croydon
Posts: 309
Likes: 0
Received 0 Likes on 0 Posts
John, it was a quick cut and paste job so I left the spit in the same attitude as in the original photo and just silhouetted it.

I think the Deperdussin would look nice out there, I might try that next.

Rob

Join Date: Nov 2003
Location: In a good pub (I wish!)
Posts: 250
Likes: 0
Received 0 Likes on 0 Posts
Trapper69: Hear Hear! What a grand summer it has been. Many thanks to all involved for the entertainment and pleasure given to so many.

Many thanks also to Duxford Eagles and MOTF for the pleasure of their photographs shared for all to enjoy.

Good health,

H

aceatco, retired
Join Date: Sep 2002
Location: one airshow or another
Posts: 1,431
Likes: 0
Received 0 Likes on 0 Posts
It was an excellent season. We were only discussing at OW last Saturday, considering how wet this summer has been generally, how lucky we have been with the weather at OW. I think we had a shower or two at a couple of shows early on but usually the shows have been well blessed. Look at last Saturday's forecast and how it turned out

Just proves OW's micro-climate!



Manchesters Most Wanted PPRuNer
Join Date: Jul 1999
Posts: 818
Likes: 0
Received 0 Likes on 0 Posts
What absolutely stunning photographs of stunning aircraft.
I'm getting more and more interested in the historic side of things so must make a concerted effort to visit OW at some point and soak up the glorious nostalgia of all of those "real" aeroplanes

Thank you very much indeed for this fine post!

Join Date: Dec 2003
Location: Croydon
Posts: 309
Likes: 0
Received 0 Likes on 0 Posts
Thanks for the comments everyone, it's been a marvellous season of great flying, lovely new colour schemes and new friends.
Here's a few more photos from Saturday's show:


Posting Rules
You may not post new threads
You may not post replies
You may not post attachments
You may not edit your posts
---
HTML code is Off
---