[IMG]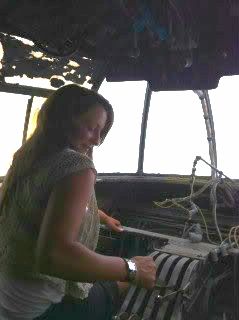 [/IMG]
[FONT="Book Antiqua"]One who believes she is a Fantome sprog visited the Musee de L'Air on 5th July 2012.
She entered there the collection's Sandringham, climbed up into the wheelhouse to sit upon the seat once occupied by PG Taylor, he who plied this boat out of Sydney for a few years in the mid fifties on cruises round the South Pacific. Sir Gordon's book of those years is 'Bird of the Islands', and a damn fine read it is too.
Taylor christened his lovely acquisition 'Frigate Bird 111'. One day he left her in Tahiti. Hence the French connection.
If per chance you know anything about PG Taylor that may not be common knowledge, please PM me, as there is a biographer friend of mine working on a life of Taylor.
Incidentally, when another of PGT's aircraft sat semi-derelict at the back of a hangar occupied by Ansett Flying Boat Services at Rose Bay in Sydney, I used often to sit in the Taylor seat of Catalina 'Frigate Bird 11', eat my lunch and dream of palm fringed lagoons and grass skirts and Polynesian beauties. Oh, and the deafening roar of two big Pratts for fifteen hours or more at a time. And G and Ts as the sun sinks in a red and golden blaze out over the bay.[/FONT