Hi everyone,
I am trying to create a lookup or index but need some help. I have a spreadsheet for entering fuel burn figures which needs the aircraft rego, the operation the aircraft was involved in at the time of the fuel burn recording, and what the ops manual says should be the fuel burn.
So I created a table as shown: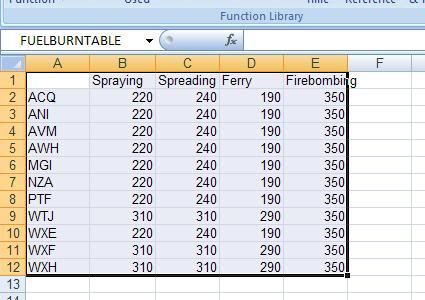 I made 2 lists, one is called 'aircraft' and is the left column, the other is called 'operation' and is the first row. The numbers are the ops manual fuel burn figures (which are not correct btw)
Now here is one line from my spreadsheet:
The 'AVM' cell is from the list as is the 'spraying' cell. Each of these cells has a dropdown box which refers to the above mentioned lists. What I want to do is fill the cell called 'fuel flow guide FCOM' from the table, in other words that cell needs to cross reference my table according to the rego and the operation.
I have tried the web and keep trying different things such as lookup, index, vlookup etc, but I am doing something wrong!!!Can anyone help me?